Robert Pattinson Confirms He Won't Play Finnick In Catching Fire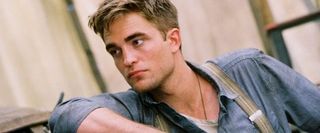 We recently got wind, like a lot of people, of an online rumor that Robert Pattinson was on the shortlist of actors wanted to join The Hunger Games sequel Catching Fire as Finnick Odair, the handsome and flirtatious former tribute whom Katniss meets in the second book. But the rumor seemed a little fishy to us, not just because Pattinson would be pretty bad casting for the blond and athletic Finnick, but because it just seemed a little too convenient a way for Summit and Lionsgate to hang on to the Twilight audience by totally pandering to them.
Turns out our instinct was right-- but it took Pattinson himself to set to record straight in the end. He told USA Today (opens in new tab) that he woke up Saturday morning at the Cannes Film Festival and saw all the rumors about him playing Finnick, just like we did. Pattinson, on the other hand, had the option of just calling up his agent to figure out the real story. Being deliberately self-deprecating, here's how he says the conversation went:
It seems unlikely that no one would offer Pattinson the part-- after all, those Twilight fans are committed-- but it looks like his agent knows as well as anybody that he's really not the right actor to play Finnick. With that bit of rumor nonsense out of the way, how about we focus on who will actually play him? I'm on board with some devoted Tumblr users who think the part ought to go to Armie Hammer, but I'm open to other suggestions as well. Let us know who the non-Pattinson option should be in the comments below!
Staff Writer at CinemaBlend
Your Daily Blend of Entertainment News
Thank you for signing up to CinemaBlend. You will receive a verification email shortly.
There was a problem. Please refresh the page and try again.