Robert Rodriguez Made A Movie We'll Have To Wait A Ridiculously Long Time To See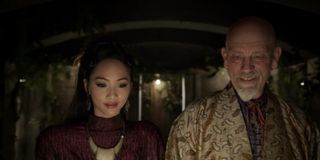 It doesn't get any more plain or simple: waiting for a highly anticipated movie to be released can seriously suck. We have known about major releases like Batman V Superman: Dawn of Justice, and Star Wars: The Force Awakens literally for years, and have been powerless to do little else besides sit and wait. While those waits may seem agonizing, Robert Rodriguez and John Malkovich have just created a new project that audiences won't get to see for a very, very, long time.
Just how long will "we" have to wait to see this project? A report from io9 indicates that the film – aptly titled 100 Years: The Movie You Will Never See – has been placed in a special time-locked safe that will not unlock until November 18, 2115. The reason for the wait is that the film will serve as a promotion for Louis XIII Cognac. The process for creating the top shelf liquor involves aging it for an entire century, meaning people indulging on the expensive booze today are drinking cognac made during the height of the first world war.
Three teasers for the film have been released, challenging audiences to "imagine the future." Each one envisions a different future for our world, ranging from an apocalyptic scenario in the vein of The Last of Us to a Phillip K. Dick style dystopia to a bright, beautiful world reminiscent of the Tron films. Despite the emphasis on futurism within these promos, Rodriguez and Malkovich have both confirmed that the "emotionally charged" film will be set in 2015. Since none of these teasers show any of the film, it truly means that the mainstream public will not get to see a single frame of 100 Years until the safe unlocks.
The reason for choosing Malkovich, according to the big wigs at Louis XIII, comes as a result of his relevance to this time period. Ludovic du Plessis, global executive director for Louis XIII, has publicly stated that he believes Malkovich is "the greatest actor of his generation," making him ideally suited to take on this project.
Check out one of the teasers below to get a sense of one of the many ways Malkovich and Rodriguez have envisioned the future:
With continuous advances in medical sciences increasing our longevity ever day, along with ways to age liquor faster, perhaps it's entirely possible that 100 Years won't live up to it's subtitle, and we will in fact get to see it – and maybe sip on some perfectly aged Louis XIII in the process. 100 Years will be released on November 18, 2115.
Originally from Connecticut, Conner grew up in San Diego and graduated from Chapman University in 2014. He now lives in Los Angeles working in and around the entertainment industry and can mostly be found binging horror movies and chugging coffee.
Your Daily Blend of Entertainment News
Thank you for signing up to CinemaBlend. You will receive a verification email shortly.
There was a problem. Please refresh the page and try again.