Elle Fanning To Front Adaptation Of Neil Gaiman's How To Talk To Girls At Parties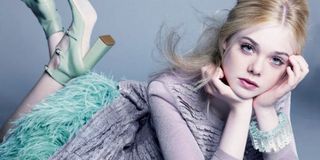 The title "How to Talk To Girls At Parties" might read like some sort of dumb self-help book, unless you're a deep-cut Neil Gaiman fan. The celebrated sci-fi short story is getting a big screen adaptation, and that movie just got a whole lot more allure thanks to otherworldly ingénue Elle Fanning.
THR reports Maleficent's Elle Fanning is now attached to star in How to Talk To Girls At Parties, which is being produced by Neil Gaiman, James Cameron Mitchell and Howard Gertler, the Academy Award-winning producer of the documentary How To Survive a Plague. Mitchell, who is best known for directing and starring in the outlandish and outstanding rock musical Hedwig and the Angry Inch, is directing the project, which he has been developing since 2010.
The short story "How to Talk To Girls At Parties" is set in 1970s London, where two teen boys stumble into a party. One tries to chat up beautiful girls only to learn they are far more than they appears to be. You can read the short story in its entirety at Gaiman's website.
James Cameron Mitchell has been developing the script with Philippa Goslett, the writer of the 2008 Robert Pattinson drama Little Ashes, which unfolded the relationships of artist Salvador Dalí, filmmaker Luis Buñuel and writer Federico García Lorca. Together, Mitchell and Goslett have transformed Neil Gaiman's short story into a two-hander romance.
How To Talk To Girls At Parties will focus on the love story that evolves between a punk/schoolboy whose solace in life (and teen angst) is creating music and art, and the girl from the party (Elle Fanning). She (spoiler alert for those unfamiliar with the short story) is an alien tourist looking to break from her tour group and explore what she believes to be the most dangerous territory in the galaxy, which just so happens to be the boy's neighborhood of Croydon, a London suburb.
Even at this early stage, I'm positively giddy over this project that promises to be definitively strange and beautiful. Gaiman is of course a god among geeks for his fantastical and dark tales, but movie adaptations of his work have proved uniquely enchanting. Consider the rousing and weird adventure Stardust, or the twisted children's movie Coraline.
Now mix in the influence of John Cameron Mitchell, who broke into the film scene with Hedwig and the Angry Inch, then followed it with the sexually challenging Shortbus, and the critically heralded and totally riveting drama Rabbit Hole. Mitchell has proved to be a filmmaker so daring that his next move is impossible to predict, and I can't wait to see what he brings to the screen from Gaiman's short story.
Lastly, Elle Fanning is proving to be an incredible young actress, whose grace and vulnerability on screen is making her hotly sought. She stoles scenes in the monster movie Super 8. She stood up to intense oddity in Twixt. In Ginger & Rosa, she revealed her dramatic chops, and proved she could shoulder a narrative on her own. And of course, she proved a compelling screen partner to Angelina Jolie in Maleficent. Casting her as a literal otherworldly beauty just makes sense.
There's no word yet on when How To Talk To Girls At Parties will roll into production.
Your Daily Blend of Entertainment News
Staff writer at CinemaBlend.
Your Daily Blend of Entertainment News
Thank you for signing up to CinemaBlend. You will receive a verification email shortly.
There was a problem. Please refresh the page and try again.