Steven Spielberg Teaming With Neil Gaiman For A Hansel And Gretel Movie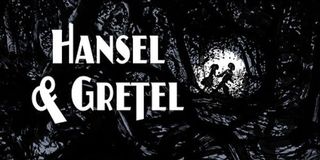 In 2013, Gary Sanchez Productions brought us Hansel & Gretel: Witch Hunters, an R-rated take on the classic fairy tale about lost children drawn to a cabin made of candy. Though critically scorned (for the most part), we're awaiting a sequel from this Jeremy Renner/Gemma Arterton vehicle. But Hansel & Gretel: Witch Hunters 2 could face stiff competition thanks to Steven Spielberg.
Variety reports Steven Spielberg, Oprah Winfrey and Juliet Blake are teaming up to develop a live-action Hansel and Gretel movie. But rather than pulling inspiration from Brothers Grimm tale, this producing trio will be adapting an upcoming graphic novel penned by celebrated writer Neil Gaiman. His Hansel and Gretel boasts ink illustrations from fine artist Lorenzo Mattotti, and it's set to hit bookshelves on October 28th.
While Spielberg's involvement will score the pic headlines, it was Juliet Blake who got the ball rolling by purchasing Hansel and Gretel's movie rights through her Four Chickens for a Fiver production company. A prolific producer of documentaries, Blake has earned a reputation curating TED Talks presentations, serving as a senior executive at National Geographic, and as the president of Jim Henson Television.
Blake first collaborated with Spielberg and Winfrey in producing the adaptation of Richard C. Morais's heart-warming book of culture clash The Hundred-Foot Journey. Winning critical praise, the Helen Mirren-fronted drama with a budget of $22 million has already earned $41 million in the first four weeks since its debut. So, it seems its producers figured one good turn (or adaptation), deserves another.
Hansel and Gretel will mark either the fourth or fifth film adaptation of Neil Gaiman's work. The first was the 2007 flop Stardust, a spirited and critically praised fantasy adventure that really deserved better box office. The second was the critically adored Coraline, which told a children's tale with a chilling brand of stop-motion animation.
Then there's How to Talk To Girls at Parties. Based on the Gaiman short story of the same name, this sci-fi rom-com is in pre-production under John Cameron Mitchell, and has the lovely and ethereal Elle Fanning attached to star as an out-of-this-world kind of girl. Possibly following these is an adaptation of Neil Gaiman's Sandman comics, which are serving as a source of inspiration for Joseph Gordon Levitt (who is said to be both directing and starring) and Man of Steel scribe David S. Goyer.
In short, it seems Gaiman's Hollywood popularity is on the rise.
Asked to comment on his upcoming comic's acquisition, Neil Gaiman said, "I'm thrilled and delighted to be working with Juliet Blake to bring Hansel and Gretel to the world again, and to show people how much this story has to say to us."
It would seem the next stop for Hansel and Gretel is selecting a screenwriter. We'll give you more on this project as it develops.
Your Daily Blend of Entertainment News
Staff writer at CinemaBlend.