Robin Williams Joins Prince Of Providence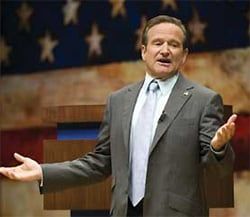 When we think of towns with notoriously dirty politics, we think of Chicago and its all-powerful machine. Or New York, back in the day, when Tammany Hall ran everything. Usually Providence, Rhode Island—capital of the country's smallest state!—doesn't figure into the mix, but Robin Williams and some buddies are out to change that.
Williams is in the process of signing on for a role in The Prince of Providence, which The Hollywood Reporter says will be a biopic of the city's long-term mayor Vincent "Buddy" Cianci. Oliver Platt will play the main character, who apparently experienced "a roller-coaster series of ups and downs" during his 21 years in office. Dermot Mulroney, Adam Goldberg, Bradley Cooper and Ed Burns are all on board as well, with Michael Corrente (Brooklyn Rules) directing David Mamet's script.
A political drama written by David Mamet? What's not to like! Especially with a cast this good, The Prince of Providence will likely be well worth a look. Oliver Platt is a quality actor who hasn't had a big, showy lead role like this in a long time. And Robin Williams… well, he's let us down in the past, but we all know he's good for plenty when he puts his mind to it. The movie has everything it needs at the moment to put Providence's name up there with the big boys in terms of political corruption—and the great stories that come along with it.
Staff Writer at CinemaBlend
Your Daily Blend of Entertainment News
Thank you for signing up to CinemaBlend. You will receive a verification email shortly.
There was a problem. Please refresh the page and try again.