The New RoboCop Is A Transformer Who Fights Al-Qaeda... Seriously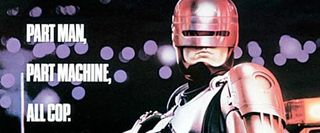 There was something willfully and unapologetically garish about 1980s/early '90s action movies. And while their effects and catchphrases feel hokey and dated now, they are still tons of fun to revisit. So it's little wonder Hollywood's been trying to recapture the magic of these flashy features, by culling together a supergroup of '80s action icons for The Expendables 2, rebooting Total Recall and remaking the cult classic RoboCop.
Of course, in some ways the tale of a cyborg police officer is timeless, but Hitfix contributor Drew McWeeny has discovered how catastrophic Columbia Pictures's soon-to-shoot remake will be, as he's gotten access to a copy of the script penned by newcomer Joshua Zetumer with revisions by Nick Schenk (Gran Torino). Via TwitterMcWeeny unleashed a torrent of furious tweets, revealing plot details and lines of dialogue along with a running account of the detrimental impact it was having on his health and sanity. One of my favorite reactions:
From here, I'll recount specifics on the RoboCop remake, so obviously there's some serious spoilers ahead-- though if you've seen the original RoboCop, you already know what's happening. First up, it appears that the filmmakers' way of dealing with the original film is to openly reference and mock it. For one, a reporter at RoboCop's public unveiling quotes the poster of the original movie, declaring, ""I think it's safe to say that Alex Murphy is now part man, part machine, ALL COP!" Then there's the original suit. Tweets McWeeny:
A great deal of the plot appears to revolve around RoboCop's evolving look/powers as McWeeny mentions RoboCop 3.0, whose construction was outsourced to China and gets a test run attacking an Al Queda training camp, and RoboCop 4.0 which resembles a "cop on steroids painted metallic blue." But wait, there's more! RoboCop 4.0 is also a transformer.
Then there's details that scream the studio's intentions to market to that profitable kids' demographic:
But it's not all bad news, says McWeeny:
The RoboCop remake will be directed by Elite Squad helmer Jose Padilha, and features a promising cast that includes Gary Oldman, Samuel L. Jackson, Joel Kinnaman, Hugh Laurie, and Jackie Earle Haley. There's no word yet on when the film will go into production, so it's hard to say if such a public flogging of its screenplay will spur revisions. But let's hope so.
RoboCop is slated to hit theaters August 9th, 2013.
Staff writer at CinemaBlend.
Your Daily Blend of Entertainment News
Thank you for signing up to CinemaBlend. You will receive a verification email shortly.
There was a problem. Please refresh the page and try again.