The Rock Rides Hollywood's Newest Wave: Lost At Sea Dramas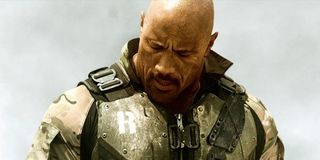 Dwayne Johnson has had an incredible year. He hosted the the reality-TV series The Hero, and appeared in four feature films (Snitch, G.I. Joe: Retaliation, Pain & Gain, and Fast & Furious 6) that's gross hit the $1 billion dollar mark by June. Coming down the pike for 2014, he's got Fast 7 and Brett Ratner's gritty Hercules coming up. But if you thought larger than life action heroes are all this pro wrestler turned movie star is interested in, you don't know the Rock.
Variety reports Johnson is attached to Relativity's ocean-set drama Not Without Hope. Based on Nick Schuyler's best-selling memoir, the film will center on a fishing trip that changed the college football star's life forever. Setting out with his workout buddies, fellow University of South Florida footballer Will Bleakley, and NFL players Marquis Cooper and Corey Smith, Schuyler planned for a relaxing day on the Gulf of Mexico. But when their boat capsized, each of these men had to fight to survive against the frigid Atlantic waters, and spoiler alert not all of them made it. Learn more about the real story in this news report:
Not Without Hope could be a chance for Johnson to tackle more hard-hitting drama than much of his filmography thus far has allowed. Notably, he tried this before with Snitch, but frankly his massive muscles made him hard to believe as a pitiable everyman bullied by cops and criminals. However, his build makes him totally believable as a pro football player or at the least a former player who works out with pros. Having played college ball for the University of Miami Hurricanes, Johnson has some personal places to pull from, but the real challenge will be when the story hits the water. Set to play Schuyler, he will have the chance to dig deep in his craft, having to perform scenes of desperation, starvation, and potential histrionics.
There's no word on when Not Without Hope will roll into production, but the project can be added to the growing slate of upcoming dramas that feature men lost at sea. Already out in theaters now is J.C. Chandor's follow-up to his white-collar crime drama Margin Call, All is Lost. This pic stars Robert Redford as an unnamed man whose solo sailing trip becomes disastrous after a run-in with a massive shipping container. Coming in 2014 is Angelina Jolie's second narrative directorial effort Unbroken. Inspired by the life story of Olympic runner Louis Zamperini, it follows his quest to survive at sea after being shot down in World War II. Lastly, there's Heart of the Sea, a biopic that reunites Rush collaborators Ron Howard and Chris Hemsworth. Based on the non-fiction book by Nathaniel Philbrick, this drama will take audiences back to the height of the whaling industry in 1820, and the ill-fated voyage of the Essex, which sank in the middle of the Pacific Ocean, leaving its crew to scrape by on little more than lifeboats.
It's an unexpected trend to arise, but perhaps the different settings might set each apart enough to make its own way at the box office. But we'll see. As these movies are sure to show, the ocean, she is a cruel mistress.
Staff writer at CinemaBlend.
Your Daily Blend of Entertainment News
Thank you for signing up to CinemaBlend. You will receive a verification email shortly.
There was a problem. Please refresh the page and try again.