Roland Emmerich's Next Film Halts Production To Do Rewrites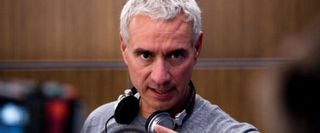 Roland Emmerich is usually the guy who makes enormous blockbuster movies for Sony-- your 2012, your Day After Tomorrow, etc. But this year his big release for the studio is Anonymous, the Shakesepare-debunking period drama that nobody expected to be huge, but has still only grossed a relatively disappointing $3 million so far. Emmerich was all ready to dust himself up and return to doing what he's famous for, with the $175 million budgeted sci-fi film Singularity. Now that comeback is going to take a bit longer to happen.
Variety reports that production on Singularity has been temporarily suspended, as Emmerich and his co-writer Harald Kloser meet with the guy who actually coined the term "singularity" to shape up the script. The film is apparently based on Kurzweil's idea that eventually artificial intelligence and actual humans will merge, and is set 50 years in the future, as a man saves the life of his injured son by infusing a swarm of nanobots with his consciousness. Adam then has a lot of robot and human powers, and as Skynet has shown us, when a machine gets too much knowledge, the end of the world is probably on its way soon.
Production is apparently still set to start around next summer, and somehow in time for its scheduled May 2013 release date, but Emmerich will now go back to the drawing board before even starting the casting process. He had apparently been considering reading Luke Grimes, Logan Marshall Green, Thomas McDonnell and Ben Barnes for the lead role-- given that they're all dark haired guys who could pass for 30 or so, I would assume they'll be playing the nanobot-powered son. It's probably going to be a big, potentially badass role-- and hopefully the rewrites will make it even more worth playing.
Staff Writer at CinemaBlend