The Role A Pissed Off Matthew McConaughey Lost To Jack Black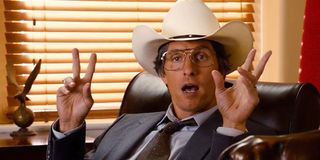 Matthew McConaughey, of the McConaughnessance McConaugheys, has a easy-going motto of "Just keep living." But that doesn't mean this breezy, bongo-playing Texan hasn't had his moments of sheer outrage. One of those came leveled at long-time friend and colleague Richard Linklater, when McConaughey learned he'd lost out on a role he desperately wanted to Jack Black. You might rightly wonder in what world McConaughey and Black would ever be up for the same role. Planet McConaughey, baby.
Yahoo reports how Matthew McConaughey mistakenly believed he'd been cast as the lead in Richard Linklater's 2012 dark comedy Bernie, meaning the titular mild-mannered man accused of murder. But in reality, Linklater had selected the handsome leading man to play Danny Buck Davidson, the tough-minded district attorney who has a little bit of cowboy in his attitude, and essentially serves as Bernie's antagonist. McConaughey wasn't going to take this lying down.
McConaughey tells the makers of the upcoming documentary 21 Years: Richard Linklater that he demanded Richard Linklater allow him to audition against Jack Black for the part of Bernie. "I thought I could knock that out of the park," he laments. Linklater declined, and cast Black as planned.
Now, McConaughey is a great actor, as he's proven in Magic Mike, The Wolf of Wall Street, Mud and Dallas Buyers Club -- not to mention HBO's True Detective. However, here he overlooks one major element of casting: his looks. After all, Bernie wasn't just a dark comedy, but a biopic of sorts, based on the surprisingly charming and beloved murderer Bernie Tiede.
Dare to compare Jack Black, Bernie Tiede, and Matthew McConaughey below:
Blending documentary-style interviews with Tiede's friends and neighbors with a narrative approach to unfolding his story, Linklater was striving to be true to the subject that was stranger than fiction. Bernie included the development of his friendship with octogenarian Marjorie "Marge" Nugent, the eventual souring of that bond, her subsequent murder, and how the town surprisingly rallied around Tiede when the killing was uncovered. It's easy to see why McConaughey wanted the role, but a bit funny that he couldn't see why he wasn't right for it.
Richard Linklater responded to this surprising story of casting conflict by explaining of McConaughey, who'd previously starred in the director's Dazed and Confused and The Newton Boys, "He's a character actor sometimes trapped in a leading man's body."
#McConaugheyProblems
21 Years: Richard Linklater includes interviews with Keanu Reeves, Billy Bob Thorton, Jack Black, Kevin Smith, Parker Posey, Mark Duplass, Zac Efron and more. It opens on November 7th.
Your Daily Blend of Entertainment News
Staff writer at CinemaBlend.