Romeo And Juliet Will Get An Insane Adaptation With These Mythical Creatures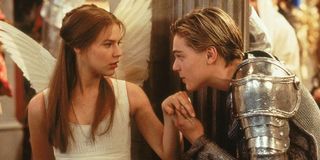 William Shakespeare's Romeo & Juliet has long inspired filmmakers with its tale of star-crossed lovers. But the director of Gremlins has a new take on this old school romance, and it involves the financial crisis, vampires, and werewolves. Because obviously?
THR reports out of the Rome Film Festival that Joe Dante has announced plans to make Ombra Amore, a romance that's title loosely translates to Shadow Love. The undergrounds of Rome will play home to the film which is a modern take on Shakespeare's Romeo & Juliet, set in financial crisis afflicted Italy and peopled by werewolves and vampires.
Ombra Amore will be made as part of The Rome Film Festival's New Cinema Network special "Great Beauties" section, meant to draw a spotlight on films shot within Italy. Dante is elated about landing Rome as the film's location, saying in a statement, "Rome. The Eternal City of Gods and Monsters, where a she-wolf suckled Romulus and Remus. And what could be more eternal than un-death?" Yet his werewolf will be no she.
Instead of Romeo, Ombra Amore has Peter, described as "a werewolf whose pack is a crew of hotheaded financial traders responsible for Italy's current economic crisis." Conversely, Peter's Juliet is Maggie, a vampire whose aristocratic family is on the brink of financial collapse because of these damned avaricious werewolves. Is it just us, or does this sound like Underworld meets Wall Street?
Ombra Amore will be Joe Dante's follow-up to the horror-comedy Burying the Ex, which made its world premiere last weekend at the Venice Film Festival. It seems a suitably sick prelude to Ombra Amore as this freaky film fest pick follows a couple where boy meets girl, girl dies, girl comes back from the grave as a zombie. Only Lovers Left Alive's Anton Yelchin, Twilight's Ashley Greene and True Detective's Alexandra Daddario star.
Get a taste of the unsavory romance Burying the Ex in the clip below:
Interestingly, Shock Til You Drop points out that Ombra Amore itself has earned a second life. Back in 2011, the film was known as Monster Love, and its Romeo was a dog walker whose meet-cute with his Juliet involved her failed suicide attempt. That script was penned by Greg Pak, best known or penning Robot Stories and Planet Hulk. But no mention of Pak is made in Ombra Amore. So it's unclear how much of this compelling storyteller's take will be left by the time this version lenses.
We'll keep you posted on this project as it develops.
Your Daily Blend of Entertainment News
Staff writer at CinemaBlend.