Ron Weasley Gets A Girlfriend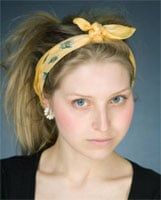 After five movies, you'd think they'd be out of parts to fill in the Harry Potter world. But casting for the next movie, Harry Potter and the Half-Blood Prince is underway. Reuters says the latest Potter addition is 20-year-old Jessie Cave, who has been cast as Ron Weasley's new girlfriend Lavender Brown.
She was found in a pool of 7,000 hopefuls who auditioned for the part this summer. Though the auditioners were told no experience was necessary, Cave has some. She's had minor parts in a couple of film an television projects, including the Helen Mirren film Inkheart. And as of yesterday, she's also already got her own fansite. These Potter fans don't waste any time.
Your Daily Blend of Entertainment News
Thank you for signing up to CinemaBlend. You will receive a verification email shortly.
There was a problem. Please refresh the page and try again.