This Rotten Week: Predicting Black Mass, Maze Runner: The Scorch Trials And Captive Reviews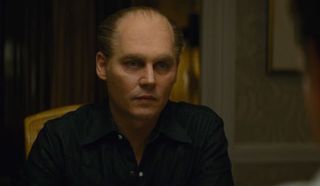 It's been a busy weekend, as I find myself split my concentration between NFL opening Sunday and this week's slate of movies. But that's a full plate I'm happy to dive into. This week we've got Black Mass, Captive and Maze Runner: The Scorch Trials.
Just remember, I'm not reviewing these movies, but rather predicting where they'll end up on the Tomatometer. Let's take a look at what This Rotten Week has to offer.
Rotten Watch Prediction
The story of Whitey Bulger is a seedy one. And seedy is a massive understatement. The dude was about as bad as it gets, playing both sides against each other in his quest to take over the entire criminal underworld in Boston. He sided with the FBI as a way to eliminate his criminal competition, and basically killed his way to the top. And then he disappearing. It ain't a feel good story by any means, but certainly a cinematic one.
Take a look at Depp as Whitey in the trailer for Black Mass below:
It's nice to see Johnny Depp out of his traditional scarves (or just not looking unironically weird), and playing an actual real person role in a flick. He looks legitimately scary as Bulger in the gangster's story. With the slicked-back hair, yellow teethed sneer, seventies garb and dead look in his eyes, Depp appears every bit the part and this looks like a gangster movie that could rank up there with some of the big ones.
Critics out of the Toronto International Film Festival are praising Depp's performance, and there might be some Oscar buzz going for the oft-made-fun-of actor. In fact, where critics might not have fallen in love with the story as a whole, they are praising the excellent cast that also includes Benedict Cumberbatch, Joel Edgerton and Jesse Plemons to name just a few.
Scott Cooper directs after putting together Out of the Furnace (53%) and much more critically-acclaimed Crazy Heart (91%). I expect his latest will finish more like the latter. The movie's sitting in the 80s right now, and should stick right around there for the long haul.
Rotten Watch Prediction
I was going to start this write up with my usual wit and charm, but man, after reading the true story behind this film I'm not sure I can get there. In fact, I'm not even totally sure why this thing got made. It's a terrible story and unless I'm missing something, doesn't seem like there should be any real redemptive aspect to what's going on.
First take a look at the trailer for Captive to get a hint about what I mean:
Back in 2005, Brian Nichols escaped from jail by murdering a prison guard. He was locked up on a rape charge. He then went and killed the judge and court reporter who saw over his case. Then he went to an FBI agent's house and killed him. Finally he took a woman hostage and was eventually captured and put back in jail. This story is heinous and terrible. And yet, it appears from the trailer as if the film sets off on a mission to humanize the actions of Nichols (played by David Oyelowo) and his "relationship" with his prisoner (Kate Mara).
Part of the story revolves around Mara's character reading Nichols The Purpose Driven Life and talking about how to find salvation amidst a rash of brutal and disturbing crimes. That, in a vacuum, I suppose has some merit. But the idea of turning Nichols' character into some sort of redemptive force as he finds the correct "path" seems wildly out of touch at worst and offensive at best. I don't know about this thing. Again, am I missing something?
I'd be floored if this scores well with critics. It just looks so tone deaf. The cast is fine enough, though the director, Jerry Jameson, hasn't done anything of cinematic note in more than about 20 years, so it's hard to judge on that criteria.
Rotten Watch Prediction
I'd be a terrible Maze Runner for a number of different reasons. I'm somewhat slow afoot, and tend to burn out easily if asked to jog at all. So the running part would be a problem. Plus, I hate mazes, finding them a silly, often disappointing activity in which the payoff rarely keeps up with the amount of work needed to solve even the easiest of the bunch. So count me out of this group. I'd have just stayed in the Glade and called it a life.
See the group who got out, however, in the trailer for Maze Runner: The Scorch Trials below:
Maze Runner: The Scorch Trials is the second flick in the Maze Runner series after the first finished at 64% with critics. That's a reasonable score for a dystopian, young adult book adaptation which are starting to feel dime a dozen-ish. In this one, Thomas and his gang of Runners continue their fight against WCKED - one of the funniest acronyms for an evil organization in the history of media. If this had been the big bad in Austin Powers I wouldn't have been surprised. In an actual "serious" piece of work? Feels hilarious.
Director Wes Ball is back after adapting and helming the first movie in his big screen directorial debut. Early reviews for The Scorch Trials have it sitting right with the first in the series at a cool 64%. I doubt it moves too much off that number. Critics seem to like it for what it is: the young adult novel-turned movie with just enough story and special effects to get the job done. It's more Divergent than Hunger Games, but you get the point. In the first one they ran through the Glades. Now they're Maze running through a desert. Same idea, different landscape.

This poll is no longer available.

Not a bad week all things considered, though not exactly jumping off the page either. My big win was with M. Night Shyamalan's The Visit (Predicted: 64% Actual: 62%), where I nearly hit it right on the nose. While this doesn't necessarily mean M. Night is "back", it's at least nice to see him stop from putting out a massive critical egg like he's been doing for the last decade or so. Critics were generally positive on the film, though CinemaBlend's Mike Reyes didn't go with the crowd in his review. He called it "an unintentional comedy" and didn't feel it offered any sort of comeback trail for Shymalan. While he did appreciate the director's "twist," he felt it came at the price of the rest of the movie, which stunk. Again, this opinion is somewhat in the minority across the industry, and The Visit does rate as one of Shyamalan's better rated films in quite a while.
Meanwhile, 90 Minutes in Heaven (Predicted: 37% Actual: 20%) was even worse than I expected, and I should have gone a little lower with my score considering how much fun I had at its expense with my write up. It just looked a movie about nothing, where the whole story was told in the trailer. There didn't seem to be any other good reason for a majority of the population to go and see it.
Finally, with The Perfect Guy (Predicted: 45% Actual: 31%) I was as shocked as you were that I put this score in the 40's. I almost feel like I made a typo in the prediction. The trailer just appeared so formulaic and predictable – the classic stalker film we've seen a thousand times. Girl falls for Mr. Right who turns out to be a homicidal stalker intent on ruining everyone's life in the quest for love. Hollywood's been at this forever with typically diminishing returns. I just don't know why I made the prediction so high.
Next time around we'll get deeper into the fall season with The Green Inferno, Hotel Transylvania 2 and The Intern. It's gonna be a Rotten Week!
Doug began writing for CinemaBlend back when Terminator: The Sarah Connor Chronicles actually existed. Since then he's been writing This Rotten Week, predicting RottenTomatoes scores for movies you don't even remember for the better part of a decade. He can be found re-watching The Office for the infinity time.
Your Daily Blend of Entertainment News
Thank you for signing up to CinemaBlend. You will receive a verification email shortly.
There was a problem. Please refresh the page and try again.