This Rotten Week: Predicting Divergent Series: Allegiant and Miracles from Heaven Reviews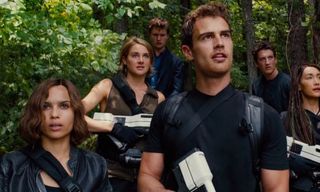 Relatively slow week before things really start ramping up for the summer season. We've got two movies on tap this week. Get ready for The Divergent Series: Allegiant and Miracle from Heaven.
Just remember, I'm not reviewing these movies, but rather predicting where they'll end up on the Tomatometer. Let's take a look at what This Rotten Week has to offer.
Rotten Watch Prediction
Have you been waiting with bated breath to learn the fate of Tris Prior? How she would ever navigate through the dystopian minefield of her world of preselected futures and a government hell bent on world domination? Me neither. I'd honestly forgotten these films were getting made. I assumed the last one that came out was the finale. Woops. There's more.
See scenes from the next chapter in this series with the trailer for The Divergent Series: Allegiant:
Man is this franchise ever headed in the wrong critical direction. We started off with Divergent (40%) and then followed it up with Insurgent (29%). Both of which were underwhelming, at best. And now might come the worst one of them all. Early reviews on Allegiant are coming in near the basement. Through almost 30 reviews, it's sitting under 20% on Rotten tomatoes, and judging by what folks have written so far, it doesn't look like any real bump is coming. Critics are leveling the flick in a bad way. Our own Eric Eisenberg gave it 2 stars out of 5.
What may be a solid box office take because tweens are all over the book series hasn't translated to the critical side, and the series doesn't seem to have the effect of pulling non-believers into the story. Probably forever doomed to being compared to The Hunger Games (fairly or unfairly), the Divergent Series just hasn't mustered up the same amount of buzz. Maybe some of it is source material or lack thereof. Maybe it's just a poorly done series of flicks.
Director Robert Schwentke has a list of critical duds on the resume so far with movies like R.I.P.D. (13%) and The Time Traveller's Wife (37%). He also directed the second in this series. Sure, he's got Red (73%) thrown in there, but that appears the exception rather than the rule. This latest will fall well below the Mendoza line and be the worst so far in the series.
Rotten Watch Prediction
Wholly moly, does it ever seem like a bunch of overtly Christian movies have been hitting the big screen in wide release lately. A couple of flicks about Jesus arrived just in the last few weeks. Bible-inspired films come fast and furious around these parts as we get close to Easter. It's all good, just seems like more than usual. I'm saying the last part apologetically, in case any thumpers want to get on my case as if I'm bringing the negative. It's all good!
See another in the Christian line in the trailer for Miracles from Heaven:
Sometimes, these Christian-themed movies will disguise themselves under the blanket of another story or tale. Not this one. Reminding us right away that this is, in fact, a miracle right from the pearly gates, it takes us on a ride of healing and whatever else is meant to get the holy juices flowing. This story follows Anna as she goes from a kid with no medical chance in the world to completely cured just by falling down a hollow tree. Really. I mean, it looks fine enough but the stakes are so incredibly low that I'm failing to see where any possible intrigue or interest could arise. I suppose that isn't the point, that it's just suppose to be a nice story. These kinds of movies don't move the needle for me at all, and I suspect it's the same with critics.
Along the same lines as The Young Messiah from last week, which I'll get to in my recap, I suspect few critics even take the time to watch these. Not with a movie pigeon-holed for a certain audience and no one else. I think we see something in the 30 review range (if that), and the score trending down the middle.
Director Patricia Riggen did something similar with The 33 (43%) last year, though that story resonated more because it dealt with something that had actual traction in the news. This one's simply a narrative and a seemingly weak one at best. I doubt many folks take the time.

This poll is no longer available.

All in all, a solid performance from the Rotten Watch last week. Two movies within ten percent and another a near miss. 10 Cloverfield Lane (Predicted: 82% Actual: 91%) was right in range and I couldn't be more excited to see it. Don't give anything away! Everything I was hoping for on a suspense level has come out in the reviews, with critics basically bending over backwards to both praise the flick as well as not give anything away. That's no easy feat, especially if the movie rocked your critical world. I actually almost missed on the low end, and that was me thinking it would still crush with critics.
Meanwhile, The Brothers Grimsby (Predicted: 41% Actual: 33%) snuck in and confirmed what I suspected after watching the trailers. I'm a huge Sacha Baron Cohen fan and even I worried about the viability of this flick from the humor side. It just looked different (in a worse way) from a lot of what this dude's brought to the table over the years. Cohen works best when marrying the sublime to the raunchy. This didn't seem to fit into the same mold, ditching the faux-documentary for a straight comedy script. Critics didn't like it at all.
Oof, The Perfect Match (Predicted: 22% Actual: 33%) was such a near miss that I almost want to count it as a win. Though to be honest I almost went even lower with this score because the flick looked so bad. A completely implausible plot line even for a rom-com had me thinking critics would take a collective dump all over it. Instead they merely disliked it rather than a full-on hatred.
And finally, Young Messiah (Predicted: 30% Actual: 63%) was a huge miss. Critics enjoyed the story of Jesus' early years though in my defense only 24 total reviews came in on this thing. This leads me to believe really only the hardcore Christians got out and gave it a review while everyone else stayed home. I'm tempted to say this one is just incomplete rather than a loss.
Next time around it's a big one, with Batman Vs. Superman: Dawn of Justice, The Disappointments Room and My Big Fat Greek Wedding 2. It's gonna be a Rotten Week!
Your Daily Blend of Entertainment News
Doug began writing for CinemaBlend back when Terminator: The Sarah Connor Chronicles actually existed. Since then he's been writing This Rotten Week, predicting RottenTomatoes scores for movies you don't even remember for the better part of a decade. He can be found re-watching The Office for the infinity time.