This Rotten Week: Predicting Furious 7 Reviews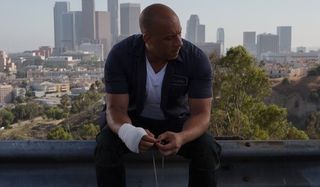 We only have one movie on the docket this week, but it's a big enough release to warrant it. Dominic Toretto and his gang of racers are back a frolic through along the open road (and wherever else something on four wheels can go). Furious 7 is ready for lift off.
Just remember, I'm not reviewing these movies, but rather predicting where they'll end up on the Tomatometer. Let's take a look at what This Rotten Week has to offer.
POSTER HERE, LINK IT TO PREVIEW PAGE
PREDICTION RATING HERE, LINK IT TO ROTTEN TOMATOES PAGE
Rotten Watch Prediction
Like the a fine wine (that's super infused with steroids and Noz) the The Fast and Furious franchise has only gotten better with age. What started as a little film with relatively unknown actors racing cars and up and down streets has become an international phenomenon. I am surprised as you, really, and now the franchise is ready to launch its epic seventh chapter.
See the gang take part in all kinds of insane stunts in the trailer for Furious 7 below:
Someone should write a master's thesis on the evolution of the Fast and Furious franchise. There's just so much there. Not in the movies, of course – as each title is basically the same premise repeated with the one major difference being an increase in budget from the last movie. No, what I want someone to write about is the correlation between the Fast and Furious franchise and expectations. I wrote about this when the last film came out and I talked about how very little within the franchise had changed. The actors, cars and stunts were all inflated in each subsequent installment which would account for some critical and box office growth. But that doesn't tell the whole story. The last two movies averaged 73% on the Tomatometer and around $700 million at the worldwide box office, while the first four averaged 38% and $241 million respectively. As I said before, all that had shifted was expectations. People knew what to expect when walking into the theater and left pleasantly surprised and satisfied. That theory still stands firm.
One thing I would change about my writeup for the previous film was the claim that the movies weren't "good" as much as people went in with a lowered critical bar. This is incorrect and pretty snobbish on my part. I recognize that. For what the Fast and Furious movies want to be, they aren't just good, they are great. They are unapologetic about their ridiculousness, and over the top in nearly every possible way and are even willing to poke fun at the running themes that seemed so serious in the first few films.
Early reviews for Furious 7 are topping out as the best in the franchise. James Wan takes over for Justin Lin who directed the last two and brings a horror film background with films like Insidious (66%) and The Conjuring (86%). This is his first major, big budget action film and it appears he killed it. Through more than 20 reviews, Furious 7 sits at a cool 86% with critics not praising it begrudgingly. They are just flat out praising it, especially the ending which appears a fitting goodbye following the tragic passing of Paul Walker.

This poll is no longer available.

Another strong week for the Rotten Watch, as I went two for two on the flicks. For starters, Get Hard (Predicted: 28% Actual: 32%) ended up being just what I thought - a dumb film that relies a little too heavily on worn out clichés. Critics, by and large, slammed the movie's macro points (though some did admit they laughed) as Ferrell and Hart played out certain stereotypes to diminishing returns. Sean O"Connell gave the film three stars in his review, saying it seems to have mostly existed as a ploy to get the two leads on screen together. This isn't a knock necessarily, but isn't the bones of a great film.
Meanwhile, Home (Predicted: 43% Actual: 48%) was another solid prediction, and isn't a film DreamWorks Animation will list as one of their greatest achivements. In fact, DreamWorks has put out 31 widely-released films. This one ranks 28th critically in front of only Shrek the Third, Shark Tale and Sinbad: Legend of the Seven Seas. So no, not one of their better films. Judging by recent performance, this is probably more a blip than a trend, but it's something to watch out for from a studio that is running a distant second to Pixar.
Next time around we take the longest ride. It's going to be a Rotten Week!
Doug began writing for CinemaBlend back when Terminator: The Sarah Connor Chronicles actually existed. Since then he's been writing This Rotten Week, predicting RottenTomatoes scores for movies you don't even remember for the better part of a decade. He can be found re-watching The Office for the infinity time.