This Rotten Week: Predicting Get Hard And Home Reviews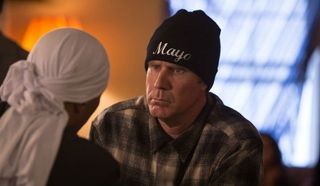 The spring movie season is continuing on in dribs and drabs in 2015, as it's been some time since there's been anything for us to get too worked up over. It's that post-Oscars, pre-summer lull when studios throw out a bunch of mediocrity in the hopes that something sticks. This week we get hard on the way home.
Just remember, I'm not reviewing these movies, but rather predicting where they'll end up on the Tomatometer. Let's take a look at what This Rotten Week has to offer.
POSTER HERE, LINK IT TO PREVIEW PAGE
PREDICTION RATING HERE, LINK IT TO ROTTEN TOMATOES PAGE
Rotten Watch Prediction
Because I know it's important to establish an identity in prison early, in order to fit into the social structure of endless confinement, I know how I'd roll in there day one. My strategy would be to walk in as the prison sommelier. I figure everyone would want to know the perfect dinner wine pairings and they'd know to come to me in order to make sure they were putting their Grigio and light fish together. And those Cabs and meat are going to really make the experience worth the trip. They'd love me in prison.
Will Ferrell has a different method for approaching prison, however, as you can see in the trailer for Get Hard below:
In a movie that appears heavy on cliches and low brow humor, Get Hard teams Will Ferrell and Kevin Hart together in a buddy flick about Ferrell getting trained for a trip to the clink. Get Hard looks like it will be embracing its tropes and stereotypes as comedy early (Ferrell assumes Hart has been to prison because the latter is black), but then sets out on a mission to bring out every overdone prison plot element known to man. Ferrell appears to be way overdoing it, putting together an awkward version of all his previous characters (not in a good way). Hart looks a bit more natural in the role, but the whole thing looks weak.
This is director Etan Cohen's directorial debut after penning films like Idiocracy (72%) and Tropic Thunder (83%). Those movies were meta in their dumbness, understanding how to use low brow humor to satisfy the overall production. This movie looks like the opposite. Get Hard appears the byproduct of writers sitting in a room, listing everything they could think they knew about prison and finally having Kevin Hart play it out on screen as he puts Ferrell through more and more "training" he thinks will help in prison. I get the idea. I just don't think it'll work.
The early critical reaction is less than positive, with the Tomatometer sitting at 30% with ten reviews logged so far. I very much doubt this score climbs much, if at all, over the course of the week. Critics confirm some of my suspicions about the trailer.
PREDICTION RATING HERE, LINK IT TO ROTTEN TOMATOES PAGE
Rotten Watch Prediction
The universe is indeed infinite, and I don't think we can begin to imagine the vastness of what exactly is out there. So it's not a farfetched idea to think we aren't alone. Somewhere in that infinity is another race that is of a greater intelligence than us. So if any of those aliens are reading this, let me just make it clear: When you come to take things over, I'm on your side. Need any help? I'm your man. You guys are the smart one. I'm just here to make the transition (takeover) a bit easier wherever I can. That's a promise.
The new animated film Home has its own view on how first contact with alien life will go, and you can get a preview of its madness in the trailer below:
Home is the latest movie from DreamWorks Animation and tells the story of a young girl who survives an alien invasion/ relocation of humans only to befriend one of Earth's visitors. Honestly, I couldn't even make it through the trailer. This isn't necessarily an indictment on the whole thing - it just didn't appear to offer anything new in the way of animated filmmaking. Not everything needs to set the world on fire, but this flick looks fairly drab.
It appears to be a buddy film (theme for this week) in which the girl and alien teach each other about the intricacies of their respective cultures. It's a common theme and probably could have some legs. This movie just doesn't look like it breaks any new ground. Cute and appealing for kids I'm sure, the best animated movies have something for everyone (namely the adults who bring the kids to the actual theater). I don't suspect we get there with Home, as early reviews are lukewarm at best.
Tim Johnson is directing the movie, and his previous work includes Over the Hedge (75%), another DreamWorks production. Dreamworks as a studio has a healthy track record of critically acclaimed animated movies in the past, with flicks like Penguins of Madagascar (72%), Turbo (67%) How to Train Your Dragon 2 (92%). Home might be one they just as soon forget. It happens.

This poll is no longer available.

It was a strong week for the Rotten Watch, as I went two for two on movies. For starters, The Gunman (Predicted: 5% Actual: 14%) was almost, though not quite, as bad as predicted. All in all, it was a total flop, but starting at 0% last Sunday and climbing fourteen points does seem like some sort of relative accomplishment. The movie stunk, though, and will undoubtedly fade into the background, presumably missing the mark on Sean Penn's hopes for a late game, Liam Neeson-like career shift. Not positive he had that in mind but if he did, it didn't stick.
Meanwhile, The Divergent Series: Insurgent (Predicted: 25% Actual: 32%) was right in the predicted range, and doesn't spell great things for this franchise going forward. The trailer appeared hammy and overdone with action sequences. Our own Sean O'Connell confirmed as much in his review, saying that it's a movie that's confusing, ill-plotted and lacks anything that can establish it in the pantheon of YA novels-turned-movies. We will assuredly see the rest of the series come to the screen, but the returns are diminishing.
Next time around we get fast and furious for the seventh time. It's going to be a Rotten Week!
Doug began writing for CinemaBlend back when Terminator: The Sarah Connor Chronicles actually existed. Since then he's been writing This Rotten Week, predicting RottenTomatoes scores for movies you don't even remember for the better part of a decade. He can be found re-watching The Office for the infinity time.
Your Daily Blend of Entertainment News
Thank you for signing up to CinemaBlend. You will receive a verification email shortly.
There was a problem. Please refresh the page and try again.