This Rotten Week: Predicting Horrible Bosses 2 And Penguins Of Madagascar Reviews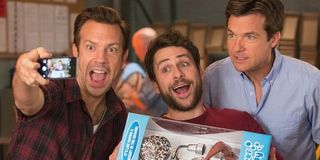 After the gigantic success of The Hunger Games: Mockingjay – Part 1 at the box office this weekend, it's going to be tough for any film to be seen as big competition. Still, that's not stopping two new releases from battling Katniss and friends in its week two, as on Friday we're getting more horrible bosses and some strange African penguins.
Just remember, I'm not reviewing these movies, but rather predicting where they'll end up on the Tomatometer. Let's take a look at what This Rotten Week has to offer.
POSTER HERE, LINK IT TO PREVIEW PAGE
PREDICTION RATING HERE, LINK IT TO ROTTEN TOMATOES PAGE
Rotten Watch Prediction
There are a lot of reasons I would make a great boss. I'm super good looking and I feel like there's some study out there that would say good-looking people make better managers because their employees are always thinking about sleeping with them or whatever. So I've got that. Also, I'm great at pretending to listen. One little trick I use is putting my cell phone in my lap and look down contemplatively, nodding my head while I read the Zite app. And finally, I get really annoyed having people around me all the time, so I'd be inclined to just giving everyone time off so I wouldn't have to deal with them. Good-looking listener who values his staff's life away from work: the perfect boss if you ask me.
I definitely wouldn't be the subject of Horrible Bosses 2 as you'll see in the trailer below:
The first Horrible Bosses (69%) caught me by surprise. I remember at the time thinking the trailer left a lot to be desired, not capturing the laughs requisite for a comedy. But I was wrong on that front. The film just missed getting certified fresh and was pretty hilarious from my perspective. This makes the sequel's early reviews all the more disappointing. Because I'm a terrible judge of anything, I thought the trailer for the follow-up looked promising, even going as far as to comment to Mrs. Rotten Week a few weeks ago that I was interested in it coming out. I was laughing out loud from just the two minute trailer.
Unfortunately, early reviews have been dreadful, bordering on embarrassing. In fact, they aren't even middle-of-the-road, "not my cup of tea" types from critics. No, these early reviews use words like "tasteless", "misogynistic" and "painfully unfunny". This kind of vitriol this early probably means the 11% score is here to stay. Or at least stay in that range.
I guess I shouldn't be that surprised. That Sean Anders directed this thing probably tipped off some folks off early. He's responsible for such work as That's My Boy (20%) and Sex Drive (46%). But this looks to be hitting the bottom of the barrel even for him. I'm all for off-color humor – even raunchy stuff is fine if done in the right way – but Horrible Bosses 2 appears to take it out to the worst degree with critics loathing it from top to bottom. Maybe they needed a boss like me around to help.
PREDICTION RATING HERE, LINK IT TO ROTTEN TOMATOES PAGE
Rotten Watch Prediction
A group of penguins that are secretly a bunch of secret agents solving crimes having to do with international animal espionage? Is there any secret to why our children are growing up with unrealistic expectations about their world? Penguins are perhaps the most boring animal alive, and now all of a sudden they are made to be exciting and mysterious. We are in for a grim future with this generation. A real grim, unrealistic future.
Check out some crazy waddling in the trailer for The Penguins of Madagascar,
It's rare that a film franchise will get better critically as time wears on. But that's exactly what has happened with the Madagascar series. The first film started with a 55%. Then Escape 2 Africa snagged a 64% and Europe's Most Wanted rocks a 79%. That's kind of unheard of in the critical world. Typically as franchise's time wears on the returns are increasingly diminished. That's the nature of these things. It's very difficult to keep throwing out the same group of characters (or offshoots of the original) and expect people to not only continue to tolerate it, but enjoy it more.
Of course, I understand why these things keep getting pumped out. The franchise will eclipse two billion dollars in box office revenue by the time it's all said and done with this film. That's a pretty good motivation – and if the films are actually better, then more power to them.
DreamWorks Animation has been churning out the hits as of late, both in terms of box office success and critical acclaim. Their latest include How to Train Your Dragon 2 (92%) and Mr. Peabody and Sherman (79%) – both of which they just released this year. I suspect the good times will keep on coming with Penguins of Madagascar. The trailer looks cute enough and the track record with the franchise and the studio is real. Man, penguins getting interesting. I weep for the future.

This poll is no longer available.

Last week, The Hunger Games: Mockingjay-Part One (Predicted: 83% Actual: 67%) was a miss, and it's an interesting thing that happened on the way to Panem. Critics, for the first time I can remember with such a thing, seemed to take umbrage at the franchise dragging out the ending over two movies. It isn't like this thing hasn't happened before. Franchises are inclined to do such a thing when A) the flicks are a hit and they want to bleed every dollar out of the thing before it's all said and done and B) when the final chapters of an epic are the most critical piece of the whole story. In this case, however, critics seemed almost offended that Katniss and company would make everyone wait around for two movies when one may have sufficed. They seem pissed about it. That led to my prediction missing the mark. I do have a feeling this film's score will be an outlier in the franchise, though. The series is just too good to finish weakly. Maybe they missed the mark here, but I'm willing to bet the final film finishes right in line with the first two.
Next time around we head to the pyramid. It's going to be a Rotten Week!
Doug began writing for CinemaBlend back when Terminator: The Sarah Connor Chronicles actually existed. Since then he's been writing This Rotten Week, predicting RottenTomatoes scores for movies you don't even remember for the better part of a decade. He can be found re-watching The Office for the infinity time.
Your Daily Blend of Entertainment News
Thank you for signing up to CinemaBlend. You will receive a verification email shortly.
There was a problem. Please refresh the page and try again.