This Rotten Week: Predicting Jem And The Holograms, The Last Witch Hunter, Rock The Kasbah Reviews And More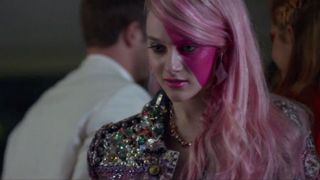 Movies are coming fast and furious this time of year. That doesn't mean they are all good, mind you, but we get a bunch of them anyway. Get ready for Jem and the Holograms, Rock the Kasbah, The Last Witch Hunter, and Paranormal Activity: The Ghost Dimension.
Just remember, I'm not reviewing these movies, but rather predicting where they'll end up on the Tomatometer. Let's take a look at This Rotten Week has to offer.
Rotten Watch Prediction
I have conflicted emotions about director Jon Chu's new live action version of Jem and the Holograms. On the one hand, I watched the film's trailer it with my little four year old and wasn't completely turned off by the idea of a little female empowerment and artistic expression. On the other hand, I was also watching it with a group of adults who admonished me for even suggesting this was worth watching because I am an adult. So I am a little torn for sure.
You can get a sense of how embarrassed I felt by watching the trailer below for yourself:
Of course the rational and practical part of my brain knows this flick isn't going to finish too high with the critics. It's based off of 1980s cartoon that wasn't even particularly good (I've found few 80s cartoons really hold up at all). In the original show, Jem and her pals live double lives thanks to holographic technology and are equal parts rock band and detective crew. It's ridiculous. And even though the live-action movie seems to have ditched the crime-solving piece and replaced the hologram part with basic YouTube-ness, the flick looks corny from the get go.
Jon Chu doesn't have much critical success to hang his hat on here. He's put together flicks like G.I. Joe Retaliation (28%) and the second, third and fourth installments of the Step Up franchise (27%, 46%, 42% respectively). That kind of resume doesn't exactly give me great hope for Jem and the Holograms.
This movie has one specific target audience (females 10-16) and it just needs to crush with that demographic to succeed, because the love certainly won't come from the critical side.
Rotten Watch Prediction
I love Bill Murray, and I know I'm not alone in that sentiment. The guy is handling the twilight of his career in the spotlight with such perfection that I'd watch him do just about anything. Of course, I've loved his entire career, as he's the kind of comedian that just tickles my funny bone in just about everything he's ever done. That being said, Rock The Kasbah looks like it might fall a little flat.
Get a taste of the rock and roll fueled film with the trailer below:
Judging from this trailer, my issues with this movie aren't really Murray-centric. He looks his usual witty, haggard self, [laying an aging music agent who, while on his very last legs and client, ships over to Afghanistan for a final gasp at the limelight. He ends up signing a local girl and overcoming some significant odds in paving her way to fame with the backdrop of war as a primary antagonist. The story seems fine enough, but it's that last point that I think might miss the mark. It's awfully tough to center a comedy in and amidst a bloody and senseless war. And for whatever pieces of this story may be true (based on actual event and all), making light in any way of the fighting and bloodshed that's gone down in Afghanistan feels like a bit of a stretch.
Director Barry Levinson has some legit classics on his resume with titles like Good Morning Vietnam (a comedy amidst a war mind you), Rain Man, and Bugsy to name a few. The filmmaker brought a major fastball at the tail end of the 80s into the early 90s. But those days may be long behind him. It's been quite some time since he's directed a critically well-received movie (the last being 2001's Bandits). A lot of his movies have toed the comedic/ heavier political content line, and at times it's worked. But I don't think this one gets there even with the great cast and Murray at the lead.
Rotten Watch Prediction
Vin Diesel has had some pretty big success in recent months. He was one of the kings of last summer thanks his voice performance in the hit Guardians of the Galaxy, and earlier this year he led Furious 7 to record-breaking box office totals. Sadly, his hot streak may be coming to an end with The Last Witch Hunter.
Get a taste of the new fantasy adventure film below:
I like my Vin Diesel boosting cars, waxing on and on about family and living his life a quarter mile at a time. That's really all I want my little Vin doing and seeing him outside of that "comfort" zone is frankly a little strange . During this whole trailer I kept picturing him jumping into a Dodge Charger and getting down to business. This whole hunting witches because of a little immortality thing is more than I want to suspend disbelief for.
In The Last Witch Hunter, Vin Diesel plays an immortal man who hunts witches. I'm not sure you really need to know anything else about the movie. The trailer is a lot of the star in a beard; out of a beard; throwing things at witches; staring at witches; and painfully pushing out dribs and drabs of dialogue. That's about it. Don't bother seeing it, I just summed the whole flick up.
The only thing throwing me off about the score even a little is that director Breck Eisner did have a solid directorial hit his last time out with The Crazies (one of the first films I ever wrote up for this column). His only other feature film is Sahara (39%), which I expect will be much more in line with this latest film.
Rotten Watch Prediction
I know I say this every time a haunted house movie comes out, but considering these hit the screen with alarming frequency, it's always worth repeating: Is there any way, under an circumstances which you would stay at a house for more than 30 seconds after some kind of demon or hidden baddy was possessing anything or anyone in or around said house? No chance. And with every new movie that comes out where these dopes just see the shit going down and still stay on the premises, the less believable it all gets (and it wasn't believable to begin with).
See another family who gets what they deserve in the trailer for Paranormal Activity: The Ghost Dimension
Continuing on in the massively successful franchise, Paranormal Activity: The Ghost Dimension picks up the series for one final chapter. A family finds some old video tapes of a possessed-looking kid in a bathrobe (what all possessed kids wear) who is actually speaking to the family through the video recording. Again, this is where almost any normal person would check the fuck out and move. But not this crowd. They are in for the long haul, and double down on the disaster by using a paranormal video camera that picks up on all the evil stuff your boring old eyes can't see.
The first Paranormal Activity jumped out of the gate and scored well with critics at 83%. The subsequent ones have gone 58%, 63% and 24% respectively. I seriously doubt this new one causes any kind of critical bounce back. It looks scary enough from time to time, but in all it doesn't look like anything new.
This is director Gregory Plotkin's first real run behind the lens on a bigger budget film. I don't know if it will be his last, but I can't imagine it's a big hit with the critics.

This poll is no longer available.

Last week was a very strong one for the Rotten Watch, with three wins and my first ever incomplete. To start, Bridge of Spies (Predicted: 88% Actual: 92%) ended up right in range, though admittedly I did have a little bit of a head start. That being said, it wasn't tough to imagine a historically grounded flick made by Steven Spielberg and Tom Hanks knocking it out of the park with the critical crowd. It did, and it's is one of the higher-rated films of the year.
Meanwhile, Crimson Peak (Predicted: 78% Actual: 68%) snuck in just within the ten percent range I give myself. This was a close call, as Guillermo del Toro's weird take on the haunted house subgenre scored well enough with critics. Cinema Blend's Mike Reyes liked it more than most, giving it five stars in his review. He was one of the guys keeping my guess closer to the mark.
Goosebumps (Predicted: 72% Actual: 71%) was a near direct hit. Maybe over time this one will end up as a bullseye, but I'll take being off by one percent as a nice win. In terms of directions they could have taken this franchise on the big screen, placing R.L. Stine in as a central character along with the actual books was a nice touch. It still lends itself to sequels and whatnot without trying to bring all 4,000 (or so) Goosebumps books to the screen in succession. Finally, Woodlawn (Predicted: 31% Actual: No Score) amazingly didn't get enough reviews to have a score. I've been writing this column for a long time and this has never happened to a widely released movie. Maybe it's the religious bent keeping critics from caring. I don't know, but this is a first.
Next time around we've just got another big one with Our Brand is Crisis and Scouts Guide to the Zombie Apocalypse. It's gonna be a Rotten Week!
Doug began writing for CinemaBlend back when Terminator: The Sarah Connor Chronicles actually existed. Since then he's been writing This Rotten Week, predicting RottenTomatoes scores for movies you don't even remember for the better part of a decade. He can be found re-watching The Office for the infinity time.
Your Daily Blend of Entertainment News
Thank you for signing up to CinemaBlend. You will receive a verification email shortly.
There was a problem. Please refresh the page and try again.