This Rotten Week: Predicting Pixels, Paper Towns And Southpaw Reviews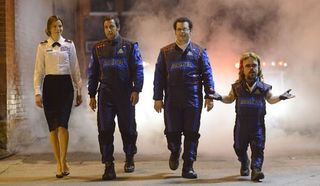 We are back for another week of movies, as the summer rolls on with three decent-size features hitting screens this Friday. We've got the family-friendly action of Pixels, the romantic drama of Paper Towns and the boxing thrills of Southpaw coming up.
Just remember, I'm not reviewing these movies, but rather predicting where they'll end up on the Tomatometer. Let's take a look at what This Rotten Week has to offer.
POSTER HERE, LINK IT TO PREVIEW PAGE
PREDICTION RATING HERE, LINK IT TO ROTTEN TOMATOES PAGE
Rotten Watch Prediction
Thank goodness the aliens in Pixels decided to use 8 -it Atari games as their muse for how to attack Earth. Sure, Pac-Man, Donkey Kong, and enormous Pong paddles can do damage, but if they had seen the likes of the Super Mario Brothers, Contra, Zelda or even freaking Battletoads there might have been absolutely no hope for the human race. In fact, humanity's hopes would fall pretty much in line with how critics are going to treat this movie.
First, see the video game takeover in the trailer for Pixels below
We all agree this looks stupid, right? I suppose it's meant to be stupid, though one can't quite ever tell with Adam Sandler these days. Does he realize the films he's starring in are nearly unwatchable to anyone over the age of eleven, and just not care? Does he try and make something credible each time out and simply not know how it's done anymore? Is everything simply a money grab? What is going on? Because Pixels looks like a lock to finish right in line with his recent work like Blended (14%), That's My Boy (20%) and Just Go With It (19%). And believe me, I could keep going with this rotten list. It's long. There's no shortage of widely panned Sandler films over the last decade.
Chris Columbus helms this story of aliens weaponizing old video games, and it's his first time behind the camera since Percy Jackson and the Olympians: The Lightening Thief (49%). While Columbus' record isn't as critically horrific as Sandler's, it isn't exactly consistent. Sure he's got the first few Harry Potter films in there, but he evens those out with crap like I Love You Beth Cooper (14%). Pixels will surely fall in the latter group of his resume.
The cast of Pixels is interesting enough, with Peter Dinklage (ahh hell, mostly just Peter Dinklage) adding some of his acting chops. But Kevin James jumps in and that kind of seals the critical deal. This flick looks like a money grab plain and simple with the hopes of bringing kids to theaters and a little nostalgia to their parents.
PREDICTION RATING HERE, LINK IT TO ROTTEN TOMATOES PAGE
Rotten Watch Prediction
Ah, the coming of age drama. I'm typically a sucker for this kind of thing, and there have been a fair number of them coming out recently. From Dope, to Me, Earl and the Dying Girl, these films have come at a steady clip. Fine by me. I'm a sucker for some angst-y melodrama. I probably have like unfinished emotional business from high school or something.
See kids finding themselves in the trailer for Paper Towns below:
Paper Towns comes from author John Green (I know because his books always have the same cover font) who also penned Fault in Our Stars (speaking of coming of age flicks). It tells the story of Quentin, a quiet and shy kid who's madly in love with his neighbor, Margo. After the two take part in a late night prank fest she disappears. Quentin and his pals set off on an adventure to find her. The premise only works in the undulating world of young adult fiction (turned movies), but who cares? I love the idea, and the movie appears to hit on many key pieces of growing up and finding yourself. The key components of the genre.
Early reviews are generally positive for Paper Towns, with critics quick to point out that while the movie doesn't exactly pave new way in the high school rom-com category, it's at least endearing and watchable. An enjoyable film about a quiet kid learning what it means to break it out of the box and live life. The story, I assume, is relatable to an entire subset of teenagers (and probably many adults as well).
Director Jake Schreier seen some critical success with Robot & Frank (85%) and surely will again with this new film. It's safe ground that needs to just hit some of the familiar beats, have likeable characters, a halfway decent story, cool soundtrack and some lessons learned along the way. It doesn't sound difficult though many movies have come along and screwed it up. This isn't one of them.
PREDICTION RATING HERE, LINK IT TO ROTTEN TOMATOES PAGE
Rotten Watch Prediction
Considering there are about 20 people total in the world who actively follow boxing and care about it deeply as a sport, it's amazing we still get boxing movies at all. And good ones at that. Sure there is the Mayweather-Pacquiao-esque fight that comes around every half decade or so. But beyond that? Boxing is beginning to operate very much on the periphery of the world sports landscape. Yet the boxing movie lives on, and it seems like Hollywood can still make great ones.
See what I mean in the trailer for Southpaw below:
In what appears to be another great role, Jake Gyllenhaal plays boxer Billy "The Great" Hope as he struggles to overcome the death of his wife, the separation from his daughter and the twilight of his career all at once. It appears a powerful and intense flick about the struggle and Gyllenhaal's emotional force comes through even in the trailer. He looks the part as well, getting ripped to appear every ounce the middleweight boxer.
Gyllenhaal's career arc points to him being able to pull off most anything in the acting realm. I'm not sure if he's underrated, but it's starting to seem that way with this film getting early Oscar buzz (that'll almost surely wear off) though doesn't mean it isn't warranted. He's a fantastic actor with his last roles in Nightcrawler (95%), Prisoners (81%), Enemy (75%) and End of Watch (85%) more than proving he has the gravity and range to bring powerful performances to both simple and complex characters.
After a run through the action film realm with flicks like The Equalizer (61%), Olympus has Fallen (48%) and Shooter (48%), Antoine Fuqua is back directing a more dramatic film than much of his previous work. Even Training Day (a fantastic film) had more than a little suspense and shoot 'em up to it. This one looks different and early reviews are positive.

This poll is no longer available.

On the whole, it wasn't a terrible week for the Rotten Watch, though I did miss on one film. With enough of a head start on Trainwreck (Predicted: 92% Actual: 85%), I was able to keep it within 10%, though critics worked over the course of the week to drop the score. This is still a crazy high number for a romantic comedy, and proof that Judd Apatow can still bring it on both the comedic and critical fronts. It doesn't hurt casting the eminently likeable and hilarious Amy Schumer whose first foray into leading lady land was better than most could have ever expected. I can't overstate just how rare it is for rom-coms to score this well with critics. They need to hit on nearly every point to get this much love. I guess the Le Bron James cameo didn't hurt either.
Meanwhile, Ant-Man (Predicted: 63% Actual: 79%) surprised. I'm a little in shock of how well this movie scored with critics. That Marvel made a solid flick just means we aren't done with the genre yet - not by a long shot. And I don't mean this as the litmus for the big boys like The Avengers and Justice League crews. No I mean Ant-Man is a win for all the *ahem* little guys and girls out there whose presence in the comic book world may be small. Not to worry, a movie about them will come soon enough.
Next time around we go on Vacation again, and meet back up with the Mission: Impossible crew. It's gonna be a Rotten Week!
Your Daily Blend of Entertainment News
Doug began writing for CinemaBlend back when Terminator: The Sarah Connor Chronicles actually existed. Since then he's been writing This Rotten Week, predicting RottenTomatoes scores for movies you don't even remember for the better part of a decade. He can be found re-watching The Office for the infinity time.