This Rotten Week: Predicting Step Up 3D And The Other Guys Reviews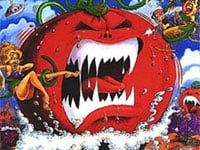 Last week three movies came out and altogether their Rotten Tomatoes scores only added up to 92%. Let's just say it was a pretty poor week for the film world. Thankfully, Inception is still in theaters so the landscape isn't totally barren. This week, Mark Wahlberg and Will Ferrell are fighting some crime. Meanwhile a dancing flick, for some reason, comes at us in 3D.
Here's what This Rotten Week has to offer.
The Other Guys
Will Ferrell is a funny guy. I don't think many people would argue that point. Even if you aren't one of his biggest fans there must be a movie of his out there that gets you to chuckle a bit. And in his career he's had some critical success (Elf - 82%, Talladega Nights - 72%), but man has this guy also made a bunch of stinkers that never really hit any kind of humorous stride. His recent film resume is also a bit troubling with Land of the Lost (26%) and Semi-Pro (20%) not delivering the laughs. He snuck Step Brothers (55%) in there and had its moments, but it's more a quote fest than a great film.
So where does The Other Guys fall in the Will Ferrell pantheon? I think it marks a return to Ron Burgundy and Ricky Bobby-like glory for the ex-SNLer. He's paired with the sneaky funny Mark Wahlberg in a role Ferrell seems destined to crush: loveable, loser police officer looking for respect. He also teams back up with director Adam McKay who's basically made a movie career out of working with Ferrell (Talladega Nights, Step Brothers).
Ferrell's always been more a layman's comedian than a critical darling so there aren't many reasons to think this will be a monster critical success, but it should deliver the goods. The Rotten Watch for The Other Guys is 64%.
Step Up 3D
Here is your fun, totally mind-boggling, factoid for the day: The Step Up franchise (it's safe to call it that now I suppose) has grossed over $250 million at the box office with its first two movies. Read that number again. It completely blew my mind especially when you consider that Step Up scored a 19% and Step Up 2: The Streets hit 26%. That has to be some kind of record for inversely proportional success. The more the critics hated it, the more money it made.
With those money numbers in mind why wouldn't they crank out a third flick? And why not put it in 3D while they're at it? They've got the money and 3D is the perfect reason to trick people into seeing what probably amounts to the same film as the first two. Director Jon Chu is back (he helmed the second Step Up installment) in what looks to be one long dance recital replete with crazy routines, gravity defying moves and a razor thin plot line that is just enough to get little snippets of pro-dance dialogue mixed in before everyone is off moving and shaking again.
But hey, audiences seem to love watching people dance. I don't, but a ton of others do which makes a movie like Step Up 3D a viable contender at the box office. Of course critics will take a collective dump over the whole production, but do you think the Step Up crowd gives a crap? Of course not, they just want to dance! The Rotten Watch for Step Up 3D is 20%.
Swipe to scroll horizontally
This poll is no longer available.
Recapping last week: It got real ugly, real fast last week with each movie vastly underperforming my predictions. Dinner for Schmucks (Predicted 72%, Actual 51%) was a pretty major disappointment considering the all-star cast. It didn't nearly live up to any real expectations. Additionally, Zac Efron seduced me with his charming All-American good looks, making my outlook on Charlie St. Cloud (Predicted 53%, Actual 26%) off by a healthy margin. And finally Cats and Dogs: The Revenge of Kitty Galore (Predicted 29%, Actual 15%) was even worse than I thought it would be. It was a rough outing for the Rotten Watch. That's what I get for being too positive. Won't be making that mistake again (at least for another week).
Next week is a biggie with Julie Roberts learning to eat, pray and love, all our favorite action stars getting together for a boom-boom reunion and Michael Cera fighting against the world. It's going to be a Rotten Week!
Your Daily Blend of Entertainment News
Doug began writing for CinemaBlend back when Terminator: The Sarah Connor Chronicles actually existed. Since then he's been writing This Rotten Week, predicting RottenTomatoes scores for movies you don't even remember for the better part of a decade. He can be found re-watching The Office for the infinity time.