This Rotten Week: Predicting Taken 3 Reviews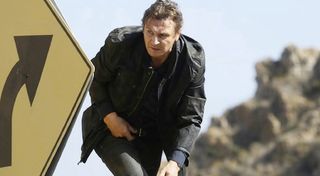 The year 2015 is certainly starting off slow, as we only have one movie on the docket this week. But if projected death counts for a flick is your metric for cinematic success, then, my friend, you are in luck. A certain agent is back to find someone and kill everyone in his path on the way. Some poor scrub is getting Taken again.
Just remember, I'm not reviewing these movies, but rather predicting where they'll end up on the Tomatometer. Let's take a look at what This Rotten Week has to offer.
POSTER HERE, LINK IT TO PREVIEW PAGE
PREDICTION RATING HERE, LINK IT TO ROTTEN TOMATOES PAGE
Rotten Watch Prediction
If my wife was ever taken, the first thing I would do - after receiving the phone call - would be to please ask the kidnappers to text me next time. I'm not a big "talker." After clearing that demand away, I imagine that I'd hang up and the further-developing convo would go something like this:
See how Liam Neeson handles his business in the trailer for Taken 3
The last time a Taken flick came out, I waxed on about how my pops is obsessed with the death count in these films. He's an old guy, probably slowly going crazy, but this is one of the things he repeats all the time. And over the holidays whenever the Taken 3 trailer hit the screen, he'd launch into yet another speech about going back and watching the previous movies just to count the bodies.
The reality is these movies are made for a singular purpose and I doubt my dad is too far off in his (hopefully) feigned bloodlust. Liam Neeson and company are on screen to basically do one thing: kill. It's amazing, really. The first two films didn't bother much at all with any semblance of a plot. Person gets taken. Liam goes to find them. He kills everyone in his path. That's about it; cut and print. This latest looks like much of the same. This time, though, the thing that's taken is his wife's life, and he's out to make sure that she is avenged - while also ensuring his dopey daughter isn't taken again. It's a vicious cycle.
Directed by the awesomely-named Olivier Megaton (Taken 2 - 21%, Colombiana - 27%), Taken 3 will almost assuredly bomb with critics. While the first film offered it's only upside in the relative new-ness of the adventure for Neeson, we saw diminishing returns with the sequel. I imagine that trend continues. But that's fine. These flicks aren't made to put Neeson up at the Oscar podium.
What these movies are made for are guys like my dad who want to have a running joke. Or guys like me that needs to learn a thing or two about negotiating for your loved ones.
DOUG KEEP THIS AS IS

EDITOR CHANGE THIS POLL ID TO THE NEW ONE
This poll is no longer available.

Well, I was way off on this one huh? The Woman in Black: Angel of Death (Predicted: 52% Actual: 24%) took a precipitous drop over the course of the week. This was mostly for reasons I outlined in my write up, and yet didn't take into account when making my prediction. My biggest issue with the film going in was its tired premise - haunted house gets all haunted… again! That the original in the series scored positive reviews swayed me a little, along with some early reviews, but critics, by and large, thought the follow-up was a disaster. They used words like "boring" and "dull". CB's Nick Romano gave this compliment, "by no means the worst piece of horror cinema out there." That's about as positive as it got in his review. Not exactly what you're looking for in a horror film.
Next time around we wear a black hat, meet Paddington and bring in a wedding ringer. It's going to be a Rotten Week!
Doug began writing for CinemaBlend back when Terminator: The Sarah Connor Chronicles actually existed. Since then he's been writing This Rotten Week, predicting RottenTomatoes scores for movies you don't even remember for the better part of a decade. He can be found re-watching The Office for the infinity time.
Your Daily Blend of Entertainment News
Thank you for signing up to CinemaBlend. You will receive a verification email shortly.
There was a problem. Please refresh the page and try again.