This Rotten Week: Predicting In Time, Puss in Boots And The Rum Diary Reviews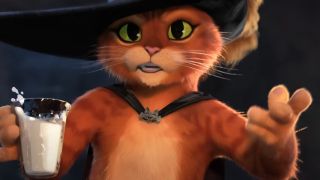 (Image credit: Dreamworks Animation)
Winner, winner, roasted organic chicken dinner with a nice bottle of 1999 Domaine de la Romanee Conti La Tache, or however that saying goes. The Rotten Challenge is over. Little surprise here, I won. Convincingly. But I'll save my gloating for the bottom. We've got some movies and predicting to get to. This week JT needs more time, Depp channels a little Hunter S. again, and I try to convince you a certain film isn't a porno.
Just remember, I'm not reviewing these movies, but rather predicting where they'll end up on the Tomatometer. Let's take a look at what This Rotten Week has to offer.
In Time
The premise of this flick is that in this movie's world everyone stops aging at twenty-five and from then on you need to "buy" time in order to stay alive. Want the cruel irony? Life, for the normal person in our world, pretty much ends right around twenty-five anyway. You're a couple years out of college, stuck in a somewhat nebulous relationship with the person you'll probably end up marrying, have a job you hate and realize its about forty-five more years of pain before you die. Checking out at twenty-five all of a sudden doesn't sound so bad.
In the past I'd have said my boy Justin Timberlake could make just about anything entertaining. But he might be a little out of his league in the action genre. In fact, I fear critics will bag on this flick in some harsh ways. Judging by the trailer, the movie misses in some fairly crucial areas that some film experts might deem "important" to critical success. Those areas would be: acting, plot, dialogue, action, and casting. (And we've already touched on the flawed premise). Might be a problem.
A trailer does not a movie make, but consider that the two and half minute commercial for the flick includes choppy and eyebrow raising action sequences, more that stiff acting, and cringe-worthy dialogue that sounds like a sappy high school senior wrote it, **
** A small sampling
"I'm going to make them pay!"
"I'm going to take them for everything they've got."
"You know we're coming to get you!"
"His crime wasn't taking time. He was giving it away." - (I laughed out loud at that one)
I have to believe director Andrew Niccol (Lord of War-61% The Truman Show-95%) might have given us a stinker. Don't think Timberlake can save this one. In fact, he might be at the root of the problem. The Rotten Watch for In Time is 35%.
Puss in Boots
Wait, this isn't a porno movie? No seriously, this is a porno movie right? There's no way this title is for a kids' flick about an actual cat wearing actual boots. It is? Oh man. Hollywood gets away with everything huh?
Yeah, yeah, yeah I get it, Puss is a timeless character from French literature, but really from Shrek 2, in which principle cinematic feat is acting the gallant do-gooder and channeling a fair amount of anthropomorphism while also retaining just enough cat-like ways to make the character funny. And there is something to be said for a kids movie with decidedly adult sensibilities (title notwithstanding) and a fair amount of innuendo (a DreamWorks staple) geared towards making parents not want to slit their wrists while sitting in the theater with their bratty kids.
Director Chris Miller (Shrek the Third-41%) brings us this Puss prequel of sorts (takes place before the Shrek movies) and has a chance to add to a generally positive-reviewed stable of DreamWorks films. I think he and Puss come out on top. (does that sound bad?) The Rotten Watch for Puss in Boots is 77%.
The Rum Diary
Saying something is "From the mind of Hunter S. Thompson" is akin to saying something is "From the solid ground on Mars." I know such a place definitely exists, but trying to picture, understand or conceptualize such a thing is probably a fools errand. Thompson operated on a different plane of cerebral existence. And from that plane came some real weird, and creative stuff.
And there is no one more adept at exploring the odd, fringes of society (or beyond) roles than Johnny Depp. Having played Thompson once already in the exorbitant mind f#$% that was Fear and Loathing in Las Vegas (42%), Depp is most likely well versed in how to portray LSD-laden and alcohol-soaked mind dealing with "reality" or in this case, late 50's Puerto Rico. And though this film is a work of fiction (sort of like Thompson's life), there seem to be definite autobiographical elements. Oh yeah and tons of booze and drugs.
The Rum Diary, from director Bruce Robinson (nothing of note in the last two decades), has returned positive, yet reserved early reviews, with many of them holding true to the "it was good, but..." theme. As more reviews come in, those opinions will start to trend more towards the middle. The Rotten Watch for The Rum Diary is 65%.
This poll is no longer available.
Recapping last week
My Picks
Johnny English Reborn (Predicted: 35% Actual: 39%)
The Three Musketeers (Predicted: 27% Actual: 28%)
The Mighty Macs (Predicted: 37% Actual: 45%)
Paranormal Activity 3 (Predicted: 77% Actual: 72%)
This week total score difference - 18% (Grand total difference - 63% for 12 movies)
Nate's Not Good Enough Predictions
Johnny English Reborn (Predicted: 31% Actual: 39%)
The Three Musketeers (Predicted: 23% Actual: 28%)
The Mighty Macs (Predicted: 82% Actual: 45%)
Paranormal Activity 3 (Predicted: 75% Actual: 72%)
This week total score difference - 53% (Grand total difference - 86% for 12 movies)
As I take a victory lap around the Rotten Watch campus, I do so knowing I won every part of this competition. I won the aggregate predicted difference. I won in actual individual movie predictions (7-5). I won in good looks (100-0). And at the risk of gloating let me just recap by saying, "I won. I won. I won." Nate put up a valiant effort (terrible Mighty Macs prediction aside), but alas it wasn't enough to dethrone the expert.
And like I said before, competition must bring out the best in me, because this was an insanely accurate month for the Rotten Watch (10 of the 12 predictions were within ten percent and one just missed at 11%!), capped off with a clean sweep last week. Four movies, four great predictions. To quote Brian Collins, "Boom goes the dynamite." Adios Nate.
Next week Ben Stiller goes criminal and Harold and Kumar celebrate Christmas. It's going to be a Rotten Week!
Your Daily Blend of Entertainment News
Doug began writing for CinemaBlend back when Terminator: The Sarah Connor Chronicles actually existed. Since then he's been writing This Rotten Week, predicting RottenTomatoes scores for movies you don't even remember for the better part of a decade. He can be found re-watching The Office for the infinity time.