This Rotten Week: Predicting The Transporter: Refueled And A Walk In The Woods Reviews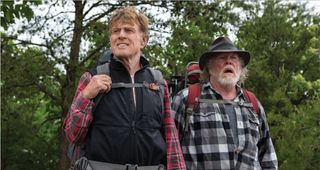 Don't go into end of summer mourning yet, folks. There's still got some time left to enjoy the rays until we reach that self-imposed line of summer demarcation known as Labor Day. If you're looking for a time at the movies, though, this week we've got Transporter Refueled and A Walk in the Woods.
Just remember, I'm not reviewing these movies, but rather predicting where they'll end up on the Tomatometer. Let's take a look at what This Rotten Week has to offer.
POSTER HERE, LINK IT TO PREVIEW PAGE
PREDICTION RATING HERE, LINK IT TO ROTTEN TOMATOES PAGE
Rotten Watch Prediction
I've been told more than one time that I'm a Jason Statham look alike. Now, I harbor no illusions that I have the same body type (or charming personality) as the dude. But, and this is independent opinion trust me, from the neck up me and Jay have some similar qualities. Namely the 90% shaved head and receding hairline. So I consider the two of us brothers of sort and it's going to be tough seeing a Transporter movie without my boy.
Take a look at another (less attractive) main character in the trailer for The Transporter Refueled
After a successful box office run ($250 million worldwide through three flicks) and moderate critical success (53%, 51%, 37%) The Transporter franchise turns to reins over to actor Ed Skrein to play a younger version of Frank Martin in the newest film. This story is apparently meant to go back in time to a younger version of Miller, though that seems to be in plot point only because the flick clearly takes place in a future beyond the original movie. Pay no mind there, though, because I doubt very much the filmmakers care even an iota about continuity or timelines. And why should they? This film is supposed to a slick, adrenaline-fueled romp through action sequences and cheesy one-liners. In that respect it appears they hit their mark.
For a movie that clearly knows what it is, The Transporter Refueled looks like a moderate tour de force of chase scenes, fight scenes, more chase scenes, cool suits, douchily-dressed bad guys, and stylization out the ass. In short, it looks fun. This is an end of the summer film from director Camille Delamarre (Brick Mansions-23%) and if critics go in with the right frame of mind (namely: it ain't no Oscar winner) then this will do okay with that crowd.
PREDICTION RATING HERE, LINK IT TO ROTTEN TOMATOES PAGE
Rotten Watch Prediction
As someone who's hiked about 120 miles of the Appalachian Trail (or roughly 5% for all your super math nerds out there), I think I'm pretty freaking qualified to make a prejudgment about a movie covering the story of two old dudes who undertake the hike to end all (or some) hikes. I know what it's like to walk, set up a tent for the night, take down the tent the next morning and walk some more. Practically an expert.
See how these guys take on a the hike in the trailer for A Walk in the Woods
In all seriousness, I loved A Walk in the Woods by Bill Bryson - a story about a travel writer and his hilariously ill-equipped friend taking on the Appalachian Trail without the knowledge, experience or fitness needed to undertake such a challenge. The book is endearing, funny, educational and a fantastic read for anyone looking to experience a little bit of the culture behind folks who take this long, long walk.
Starring Robert Redford and a requisitely crazy Nick Nolte, along with a supporting cast that's a who's who of aging talent, A Walk in the Woods follows Bryson and his friend as they quickly find out they've made a big mistake trying to complete the trail in one shot. It looks endearing enough, appealing to an older demographic looking for a late summer date night.
Director Ken Kwapis has a resume that's critically either just above or just below the average line with flicks like Big Miracle (73%) and He's Just Not That Into You (43%). He makes safer movies, appealing in their own right. This one looks right in line. It's at 50% through twelve reviews and I suspect it sticks in that range for the long haul. Some critics liked the comedy, others thought it wore thin over the course of the film. It should stay right in this middle ground. I mean hiking the Appalachian Trail is as milquetoast as it gets.

This poll is no longer available.

It was not a fantastic week for the Rotten Watch last time around, with one close win and a healthy miss. First off, No Escape (Predicted: 31% Actual: 41%) finished just in range. If anything, I thought I'd gone too high with the prediction, thinking more critics would feel like Cinema Blend's Mike Reyes - who gave it one star in his review. In it, he called movie not only boring, but also racially insensitive. No praise from Reyes, who hated the film. But not all critics fell in line, and the score trended much more toward the middle than I expected. It still fell within ten percent, so I'll take a begrudging win.
Meanwhile, We are Your Friends (Predicted: 19% Actual: 43%) was a huge miss and frankly, I'm shocked. The trailer for this flick looked so eternally stupid that again, much like the movie above, I thought I'd actually gone too high with the 19%. I couldn't even make it through the two and half minute trailer. Whether I'm just in the wrong demographic or missed something completely, critics didn't outright despise the film like I thought they would. In fact, they just moderately disliked it. CB's Nick Romano called the movie "mostly harmless", made specifically for a millennial crowd that enjoys electronica. I'm neither a millennial, nor an EDM enthusiast so count me out. But critics all came in this range, thinking if you like this kind of thing, then I suppose you won't trash the flick.
Next time time around things start getting really slow with 90 Minutes in Heaven, The Perfect Guy and The Visit. It's gonna be a Rotten Week!
Doug began writing for CinemaBlend back when Terminator: The Sarah Connor Chronicles actually existed. Since then he's been writing This Rotten Week, predicting RottenTomatoes scores for movies you don't even remember for the better part of a decade. He can be found re-watching The Office for the infinity time.
Your Daily Blend of Entertainment News
Thank you for signing up to CinemaBlend. You will receive a verification email shortly.
There was a problem. Please refresh the page and try again.