This Rotten Week: Predicting X-Men Apocalypse And Alice Through The Looking Glass Reviews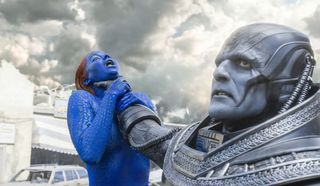 Now that the summer has begun, we can expect week after week of big releases, and this last weekend in May is certainly no exception. We've got two big budget studio films coming down the pike and ready to head into wide release this Friday. Get ready for X-Men: Apocalypse and Alice Through the Looking Glass.
Just remember, I'm not reviewing these movies, but rather predicting where they'll end up on the Tomatometer. Let's take a look at This Rotten Week has to offer.
Rotten Watch Prediction
I love the X-Men franchise and have yet to dislike anything they've brought to the table. Even the weaker offerings like X-Men: The Last Stand are only lesser by comparison to the whole. Both the originals and the reboot have such solid flicks and X-Men: Apocalypse's director Bryan Singer has been on both sides of the franchise timeline with X-Men: Days of Future Past (91%) and X2: X-Men United (86%). But this one is struggling to keep up critically with the others.
A majority of reviews are already in and critics split it down the middle. Sitting at 51%, X-Men: Apocalypse is being applauded for the construction of its action sequences and the moral plot points; but the more negative voices are gripping about blandness and a possible oversaturation of the franchise. No matter what, I'll still put the X-Men up against any other comic book franchise, but this one doesn't look like it'll top the list of reasons why.
Rotten Watch Prediction
Sweet. Another reason for Johnny Depp to get looking all weird is upon us. Reprising his role as the Madhatter, Depp's looks in Alice Through The Looking Glass couldn't be any creepier (possibly unintentionally, though that's never totally clear), and he steals attention every time he pops up in the trailer. I suppose there are other part of this flick, though does anyone really care?
In the sequel to Alice in Wonderland (52%), which was lukewarmly received by critics, Alice Through The Looking Glass follows Alice (Mia Wasikowka) as she runs around a lot, falls through doors, gets bigger and smaller, and goes on a mission to help the Mad Hatter. Forgive me if I'm skeptical. I never totally understood the love for the books and the movies seem almost completely without appeal beyond the ridiculous. Director James Bobin has a couple of critical wins with The Muppets (96%) and Muppets Most Wanted (79%), but this one will put a dent in the old resume. It's sitting at 44% through 16 reviews right now, with little indication the score will trend upward. A major complaint is the lack of story (a problem I had with the book coincidentally) and that should spell trouble with the rest of the critical community. But hey, at least we get Depp for the nightmares.

This poll is no longer available.
Overall, last week wasn't a bad one for the old Rotten Watch. Two out of the three movies landed within range, with the third was an annoying miss because my prediction made no sense. First off, The Nice Guys (Predicted: 81% Actual: 90%) just fell within 10% and looks like a massive critical hit. I hedged a bit with my score simply because without early reviews it's awfully tough to put a flick in the 90s. That being said, the trailer made it appear like just the right kind of dark comedy and the major players (Ryan Gosling and Russell Crowe) are usually worth the price of admission. Critics went nuts and this will end up as one of the best scores for a widely-released movie this year.
Meanwhile, it looks like Neighbors 2: Sorority Rising (Predicted: 65% Actual: 61%) did its predecessor proud enough. Making a movie about a frat moving in next door to the typical nuclear family looks great on paper, but could have gone way off the tracks in its execution. That was just for the first one. Forget trying to do it twice, the second time around with a sorority. But Seth Rogen and company have comedy chops for sure and they scored a win here. Not out and out great, but a solid score for a sequel especially when the blueprint looks exactly the same.
And finally, Angry Birds: The Movie (Predicted: 60% Actual: 42%) missed. What a stupid prediction by me. An animated movie based on a silly video game with a terrible tagline should never, ever finish above 50%. And yet there I was putting it on the right side of positive. Influenced some by early reviews and not being totally appalled by the trailer led me down the wrong path. Wasn't an epic miss, but I'm still a little miffed.
Next time around we've got a big one with Me Before You, Teenage Mutant Ninja Turtles: Out of the Shadows and Popstar: Never Stop Never Stopping It's gonna be a Rotten Week!
Your Daily Blend of Entertainment News
Doug began writing for CinemaBlend back when Terminator: The Sarah Connor Chronicles actually existed. Since then he's been writing This Rotten Week, predicting RottenTomatoes scores for movies you don't even remember for the better part of a decade. He can be found re-watching The Office for the infinity time.
Your Daily Blend of Entertainment News
Thank you for signing up to CinemaBlend. You will receive a verification email shortly.
There was a problem. Please refresh the page and try again.