Ruben Fleischer Being Considered For Ghostbusters 3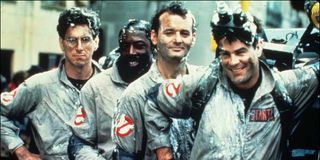 Oy, this director carousel. Ant-Man continues to be a directorial hot potato, with Adam McKay, Rawson Thurber and Ruben Fleischer amongst the candidates. While McKay has pulled out, Thurber seems like the strongest potential hire, according to a recent report. Fleischer, meanwhile, might be in line for a franchise with a much more spectacular legacy.
Ruben Fleischer is apparently one of Sony's targets to take over Ghostbusters 3, reports The Wrap. The issue is that apparently Fleischer is hesitant to take on a bigger project since he's just become a father and wants to spend some time with his kid. Hey, congrats, Ruben, very cool. Fleischer is something of an in-house choice, as he previously directed Zombieland and 30 Minutes Of Less for Sony, the studio behind the latest attempt at getting the Ghostbusters back on the big screen.
Of course, Fleischer has a leg up on most other candidates, including recent rumored candidates Phil Lord and Chris Miller. In Zombieland, Fleischer somehow secured the services of Bill Murray for a sequence where he played himself, and even involved the old proton pack for a Ghostbusters gag. Given how prickly and hard-to-reach the elusive Mr. Murray truly is, it was a minor triumph that many feel was the highlight of the film, and subsequently Fleischer's career.
Unfortunately, Fleischer soon shifted to Warner Bros. after the failure of 30 Minutes Or Less, and made the expensive flop Gangster Squad, which stranded a lot of good actors in some silly period garb left to ham it up excessively. Gangster Squad ultimately generated $105 million globally, a not-bad total, but the budget was at a solid $60 million and the WB expected twice as much in gross, particularly considering the script came from the decorated Black List and featured a number of prestige actors.
Sony's looking for an early 2015 production start, which would mean Fleischer would have to jump into pre-pro by fall. Would that be enough for him? And does Fleischer coming back to Sony after a high profile failure suggest that he might not exactly have much to say in regards to what kind of movie Ghostbusters 3 would be? He's really only got one hit movie on his resume, and Zombieland only grossed $102 million worldwide, failing to spawn a film or television franchise. Fleischer getting back Murray would be incredible. But is that the only clout he's bringing to the property? And is he the best director for the job?
Your Daily Blend of Entertainment News
Thank you for signing up to CinemaBlend. You will receive a verification email shortly.
There was a problem. Please refresh the page and try again.