Ryan Gosling Starring For Nicolas Winding Refn In The Logan's Run Remake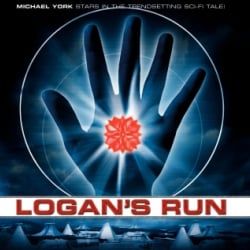 Ryan Gosling already has one surprisingly action-heavy project coming down the pike, the heist movie Drive, and now he's already teaming up with that film's director Nicolas Winding Refn to bring us another. According to Deadline he is finalizing a deal with Warner Bros. to star in a remake of Logan's Run, which Refn would direct.
The Logan's Run remake has been in development at the studio for years, with Bryan Singer attached at one point and, as recently as last November, Carl Rinsch developing his take. Now that Refn and Gosling are on board things actually seem to be moving forward-- production is set to start in the fall, probably not long after Drive opens on September 16.
Set in the year 2116, Logan's Run depicts a dystopian society in which everyone is put to death at the age of 30 (it was 21 in the original novel but changed to 30 for the 1976 film; given that Gosling himself is now 30, that change will probably stick). Gosling will lay Logan 5, charged with tracking down those who skirt their mandatory death but, like so many other heroes of dystopic stories, eventually forced to go on the run himself. The 1976 film is kind of an icon of cheesy 70s sci-fi, but if they're going to put a new spin on the material, it's hard to get more different than Refn and Gosling-- Refn, known for violent indies like the Pusher trilogy and Bronson, seems about as unlikely as Gosling does for a major studio tentpole job. Maybe it'll be a fit that's so wrong it turns out to be right?
Staff Writer at CinemaBlend
Your Daily Blend of Entertainment News
Thank you for signing up to CinemaBlend. You will receive a verification email shortly.
There was a problem. Please refresh the page and try again.