Ryan Murphy Re-Teams with Julia Roberts and Alec Baldwin For The Normal Heart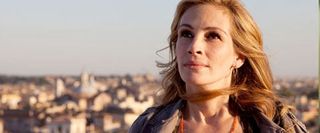 Glee creator Ryan Murphy has been rumored to be pursuing several film projects of late. Beyond talk that he's hoping to helm the adaptation of the Broadway sensation Wicked, which once starred Glee guest stars Idina Menzel and Kristin Chenoweth, there are reports Murphy is Sony's pick to direct the Willow Smith-fronted Annie remake, and that Fox wants the king of Auto-tune and iTunes hits to remake The Rocky Horror Picture Show. Yet it's looking more and more like Murphy's directorial follow-up to his feel-good chick-flick Eat Pray Love will be his adaptation of the Tony Award-winning play The Normal Heart.
It was last August that Murphy purchased the rights to the autobiographical drama about one man's experiences during the emergence of AIDS/HIV in 1980s New York. The first name to sign on was The Kids are All Right star Mark Ruffalo. But now THR reveals that Murphy's Eat Pray Love leading lady Julia Roberts has signed on to the project along with Alec Baldwin, who had a memorable supporting turn in Murphy's first feature, Running With Scissors. TV stars Matt Bomer (White Collar) and Jim Parsons (The Big Bang Theory) have also joined the cast. And though Murphy penned the screenplay inspired by Augusten Burroughs memoir Running With Scissors, the script for The Normal Heart was penned by its playwright Larry Kramer.
While Ruffalo will lead the narrative, playing Ned Weeks, a gay-rights advocate who is the first to draw notice to the disease that was initially misnamed "gay cancer" or GRID (Gay-related immune deficiency), Roberts will portray Dr. Emma Brookner, one of the few medical professionals who first realized the severity of the virus. Baldwin will play Ruffalo's older brother, a lawyer conflicted about his sibling's sexuality, and Bomer is set to portay Felix Turner, Week's beau who is ultimately brought low by the disease. Parsons is the only member of the Broadway cast so far who is set to reprise his role, in this instance as a gay right's activist from the South.
There's no word yet on when The Normal Heart will go into production.
Staff writer at CinemaBlend.
Your Daily Blend of Entertainment News
Thank you for signing up to CinemaBlend. You will receive a verification email shortly.
There was a problem. Please refresh the page and try again.