Ryan Reynolds Isn't Eager To Reprise Green Lantern In Justice League Movie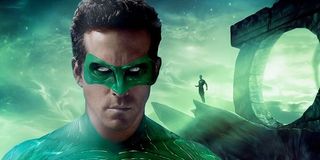 I remember vividly the day news broke that affable leading man Ryan Reynolds had been cast to play Hal Jordan in the Green Lantern movie. It wasn't because I covered the casting notice, or even because I was terribly invested in the eventual action flick. It was because a typically mild-mannered friend of mine was absolutely livid over the choice. A long-time fan of the Green Lantern comics, he shook his head morosely, saying that Reynolds is a fine actor, but totally wrong for this role. He saw it as a bad omen. When the movie came out, I couldn't convince him to join me in seeing it. And maybe that was for the best.
Despite making $219 million worldwide, the big budget CGI spectacle (that cost a whopping $200 mil to make) was loathed by critics, some of whom are big fans of the comics in their own right. Followed by the similarly (though I'd argue unfairly) panned The Change-Up, Green Lantern contributed to the decline of Reynolds' prospects as a viable leading man. And he has no interest in making the same mistake twice. Well, "very little" interest anyway.
Talking to Empire, Reynolds spoke about the possibility of reprising the role of Hal Jordan/The Green Lantern in the Justice League movie. "If you're going to do comic book movies in that vein, you really have to get them right," Reynolds explains. "I believe that Joss Whedon is the guy that just nails it and Christopher Nolan obviously nails it. So if they were gonna' do it like that, it would be an interesting thing to do."
But would Justice League qualify as "an interesting thing to do?" Probably not. He expands, saying:
Of course, Reynolds' superhero movie experience is not limited to Green Lantern. He also played Deadpool in X-Men Origins – Wolverine…but that movie didn't fare sensationally with critics or audiences either. Still, Reynolds is enthusiastic about the Deadpool spin-off, though not optimistic that it'll be made. He tells Empire:
A hard R, very violent superhero movie about a mentally disturbed man? Sounds like Lexi Alexander's devotedly brutal and bonkers Punisher: War Zone, which cost $35 million, and took in only $10 million worldwide. Not a good sign for Deadpool's prospects. But if you want to hear more about Punisher: War Zone and the problems it met finding an audience, check out How Did This Get Made's in-depth interview with the director. You'll get some perspective—unwelcomed thought it might be—on what kind of battle this Deadpool movie might have in store.
Staff writer at CinemaBlend.
Your Daily Blend of Entertainment News
Thank you for signing up to CinemaBlend. You will receive a verification email shortly.
There was a problem. Please refresh the page and try again.