Ryan Reynolds Wants Cable To Lead The Team In An X-Force Movie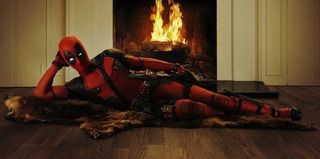 We may not see Ryan Reynolds take the title role in Deadpool until next year, but that didn't stops crowds from going nuts for the Merc with the Mouth at San Diego Comic-Con recently. And while Marvel is busy with their cinematic universe, Fox has the rights to a number of comic book characters, and we keep hearing people calling for them to crossover. For his part, Reynolds has a very specific team up he'd like to see: X-Force.
Talking to ComicBook.com, Reynolds kicked around ideas for potential crossovers. When the subject of X-Force was broached, the question of whether or not he'd like to see Deadpool lead the crew came up, and Reynolds said:
It makes sense that you wouldn't want Deadpool in charge of, well, anything. With his penchant for psychotic episodes and bloodshed and going off book at a moment's notice, god be with you if you just so happen to be a member of any team he's in charge of, because in all likelihood you're going to have a relatively short life expectancy. Cable seems like a better choice as a leader, though his presence still leaves plenty of room for wanton violence and mayhem.
Fox has Fantastic Four on the way this summer, and Deadpool, X-Men: Apocalypse, and the Channing Tatum-fronted Gambit in 2016. While the only thing we've heard about potential crossovers is unsubstantiated rumor and innuendo, it does seem plausible. We've been told that these properties all exist in the same world, so, with the cinematic landscape such as it is, where everyone from Transformers to Universal's monsters are working on their own shared movie universe, you have to assume it's been talked about.
There are already a number of X-Force members who could show up, including Deadpool, Psyclocke, Colossus, Cyclops, Wolverine, and others who could all get together down the line. And Fox has the rights to Marvel's mutant characters, so there are even more they could introduce if they felt so inclined. This is all speculation at this point, but it would be awesome, and lots of people, fans and folks actually involved alike, sound like they want it to happen.
We could possibly see our first official footage from Deadpool relatively soon. Like every other big reveal at Comic-Con, the Deadpool reel was found its way online. They didn't follow the lead of Warner Bros. and DC, who officially released their Batman v Superman: Dawn of Justice and Suicide Squad trailers after they leaked. Ryan Reynolds said that the VFX in the footage weren't finished, but that we would see something in a few weeks. Whether that is what they showed in San Diego or not remains to be seen, but it was supposed to be rad, so fingers crossed. Also, there's reportedly a "very athletic" sex montage, so there's that.
Deadpool breaks the fourth wall into theaters on February 12, 2016.
Your Daily Blend of Entertainment News
Thank you for signing up to CinemaBlend. You will receive a verification email shortly.
There was a problem. Please refresh the page and try again.