Sacha Baron Cohen Remakes Peter Sellers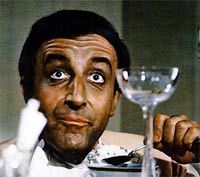 Sacha Baron Cohen may be getting a slightly inflated view of his self-worth. Apparently, the guy has deluded himself into thinking he's Peter Sellers. Or at least as good as Peter Sellers. A piece in the NY Post says Cohen wants to remake a 1968 Blake Edwards, Peter Sellers starring movie called The Party.
I'll be honest: this is one Edwards/Sellers flick I'd never heard of, which is surprising considering the absolute adoration my father showered on just about everything else they did together when I was a kid. Avoiding Peter Sellers was impossible. The Party is not a part of their Pink Panther series, so at least Cohen wouldn't be attempting Clouseau. Steve Martin has already done a pretty good job of ruining the character. The Party had Sellers playing a bumbling, mostly unknown Indian actor accidentally invited to a big time Hollywood party. While there, as only Peter Sellers can, he destroys everything.
If you're going to remake a Peter Sellers movie, I guess this is the one to do since it's lesser known. I can even sort of see how Sacha might fit rather smartly into this sort of story. It's basically a riff on what he already does with Borat, it's just the dinner party scene from the Borat movie, except done much bigger and hopefully without poop in a bag. I can see it, but come on Sacha, you are no Peter Sellers. At least not yet.
The really good news here is that original producer-director, comedy genius, Blake Edwards might actually be involved. Apparently Edwards and Cohen had a long talk at a screening of the original movie. If Edwards is attached in some capacity, then I get interested.
Your Daily Blend of Entertainment News
Thank you for signing up to CinemaBlend. You will receive a verification email shortly.
There was a problem. Please refresh the page and try again.