New Safe House Poster Actually Shows Ryan Reynolds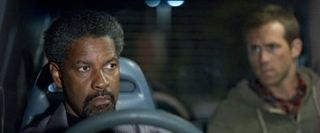 We're entering the January/February doldrums, so I hope you're well supplied with DVDs, video games, or a Netflix account. This is the season when Hollywood burns off the odd, the uncertain, and the just plain crappy. Thankfully there are a few possible gems amongst the dreck, and one of the releases I'm looking forward to is Safe House, starring Denzel Washington and Ryan Reynolds. Washington plays a dangerous rogue CIA operative who reappears after many years and is then taken into custody. Unfortunately, the South African safe house where he's being held is attacked by forces unknown, sending him on the run alongside a rookie agent (Reynolds). They have to work together to have a hope of survival.
The first poster we saw for Safe House was either minimalistic or just plain boring, depending on your point of view. The new one is a bit more exciting (certainly if you're Ryan Reynolds' agent) since Denzel's co-lead actually shows up on this one. They're sticking with several of the design elements from the first poster: namely, the arty black-and-white with splashes of red, as well as the "No One Is Safe" slogan. The contrast between the two sides of the poster is jarring, but we'll give them the benefit of the doubt and assume that was intentional. At the very least, it's an improvement over Denzel staring at us from within a black void.
Safe House is directed by Daniel Espinosa (Easy Money) and written by David Guggenheim. Denzel and Reynolds will be joined onscreen by Vera Farmiga, Brendan Gleeson, Sam Shepard, Robert Patrick, and more. It opens on February 10th and you can read more about it over in our Blend Film Database.
Your Daily Blend of Entertainment News
Your Daily Blend of Entertainment News
Thank you for signing up to CinemaBlend. You will receive a verification email shortly.
There was a problem. Please refresh the page and try again.