Sam Raimi Says Fans Are Pushing Him Into Making Evil Dead 4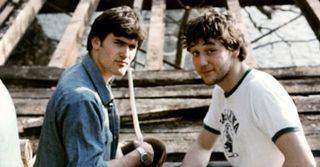 Even with a reboot/remake/whatever of the original Evil Dead coming next month, what really gets the Internet excited is when the Raimi brothers Sam and Ivan, Bruce Campbell, or some combination of the three starts talking about returning to the franchise. It's hard to think of any movie made on a tiny budget by a bunch of young guys in the woods that's inspired the same kind of fervor, and required grown men to seriously thinking about making another movie in the style of the one they did when they were 22 and fearless.
With Sam Raimi out on promotional duties for this weekend's Oz The Great And Powerful, the inevitable talk about Evil Dead 4 has emerged again, but this time Raimi had a good answer to fans. Claiming that he would love to make Evil Dead 4, Raimi said that he and his brother were planning to work on a script over the summer. That firm timeline and enthusiasm were new for the "maybe someday" Raimi, and seemed like an indication that, after the reboot comes to theaters in April and he gets Oz out of the way, Raimi will be ready to return to Ash and the wild adventures that surround him.
Except… it might not be so much that Raimi is ready as that he's been worn down by all this begging. Talking to Bleeding Cool, Raimi explained that it was the energy of the crowd at the Meet the Filmmakers event for Oz in London that got him to promise the summer script, and "I feel like I was pushed into saying that, a little bit." And even though he's never promised anything, he says the pressure from fans keeps him nervous:
It's wild to hear any director, especially one as powerful and well-regarded as Raimi, admit to being forced to do anything by fans. Usually directors bend over backwards to avoid admitting anything of the sort, and I don't blame them-- once you allow for that kind of nonsense, you get petitions about characters to be added to sequels and all other kinds of demands. It sounds like Raimi continues to be surprised by the ongoing fan love for Evil Dead, and the enthusiasm has motivated him to give it a shot… though he still seems unclear on exactly why anyone actually wants this.
I can't decide if I feel bad for Raimi in this situation or not. In a way he seems genuinely bullied, saying things to placate a roaring crowd and not actually feeling it. On the other hand, he says there's nothing else he particularly wants to make after Oz…so maybe the fans (and his encouraging brother) are just the push he needs? If you see Raimi in person, though, maybe don't yell at him about Evil Dead 4. I think he needs some time to work out his feelings for himself.
Staff Writer at CinemaBlend
Your Daily Blend of Entertainment News
Thank you for signing up to CinemaBlend. You will receive a verification email shortly.
There was a problem. Please refresh the page and try again.