Sam Worthington Is Back Indie Action-Thriller For The Dogs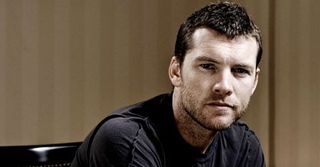 Between Avatar and Terminator Salvation, Sam Worthington seemed poised to be the next big thing in 2009. However, the latter feature was loathed by critics, and the former drew buzz for its spectacle, not its performances. Still, Worthington's been doing all right, scoring roles in action films like Clash of the Titans and Man on Ledge and dramas like Last Night and Texas Killing Fields. Still, he's yet to really establish his brand. Could a thriller helmed by Clear and Present Danger director Phillip Noyce make all the difference?
Variety reports Worthington has signed on to headline For The Dogs. Based on the Kevin Wignall novel of the same name, the film follows recently retired hitman Stephen Lucas who is asked to watch out for Ella, the spirited college-aged daughter of a friend. But when her whole family is murdered, Lucas comes out of retirement to protect her and help her exact a bloody revenge. Worthington will presumably play Lucas; no mention is made as to who might play Ella.
For The Dogs will be Noyce's first feature film since the 2010 Angelina Jolie vehicle Salt. The screenplay for this thriller was initially adapted by Paul Leyden (The Factory). However, while he will continue to produce the pic, writer-director Oren Moverman (The Messenger, Rampart) has been brought in for rewrites.
On paper, this sounds like it could be a satisfying thriller. Noyce is known for corralling engaging action sequences, and Moverman's built his reputation on stirring character dramas. For his part, Worthington is a competent actor, but in all I've seen of him I've yet to see him really come alive onscreen. Typically, I find him fine, but forgettable. All the same, he'll appear opposite Arnold Schwarzenegger in the 2014 action-thriller Ten, and possibly in James Cameron's Avatar sequel(s).
Your Daily Blend of Entertainment News
Staff writer at CinemaBlend.