Samuel L. Jackson Joins Matthew Vaughn's Secret Service As His Villain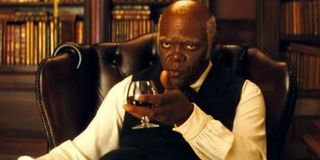 While Samuel L. Jackson often plays a badass, he less often plays a bad guy. But Variety reports Jackson has signed on to be the villain for Matthew Vaughn's soon-to-shoot espionage adventure The Secret Service. Based on a comic book series by Mark Millar and David Gibbons, the movie centers on a veteran MI6 spy who attempts to straighten out his screw-up nephew who's gunning for a criminal life in the hood. Millar has described the concept as My Fair Lady meets James Bond.
Jackson joins a cast that includes Colin Firth as the lead British spy and newcomer Taron Egerton, who beat out Skins' star Jack O'Connell, Attack the Block's John Boyega, and Cemetery Junction's Christian Cooke for the role of his Firth's "street kid" nephew. Michael Caine has also signed on, playing the head of the MI6. At present, Vaughn and his screenwriting/producing partner Jane Goldman (Kick-Ass, X-Men: First Class) are keeping mum on details about Jackson's villain. However, we do know that Vaughn was doggedly in search for a typically likable A-lister to take the role. Before Jackson took the part, Vaughn had approached Tom Cruise and Jackson's Django Unchained co-star Leonardo DiCaprio. As these three actors have virtually nothing in common in their typecasting, The Secret Service's villain is at present a total mystery.
The next role that needs to be cast is that of the film's female lead. Reportedly, Vaughn is eying Emma Watson, who recently took a spin as a bad girl in Sofia Coppola's The Bling Ring, and big-eyed Burton beauty Bella Heathcote, who drew notice—if not praise—from her love interest role opposite Johnny Depp in the 2012 flop Dark Shadows. No details are being shared about this part, and we have no idea which actress has the edge by Vaughn's estimation. But with The Secret Service expected to shoot this fall, we should hear more soon.
This film marks the third collaboration between Vaughn and Millar. The first was the R-rated superhero action-comedy Kick-Ass, which was also based on Millar's comic books. After scoring rave reviews and proving a hit at the box office, rumors about a sequel floated about as its stars—Chloe Moretz and Aaron Taylor-Johnson—grew more and more famous. Kick-Ass 2, which Millar gets a story credit on and Vaughn produced, seemed less and less likely as the months then years flew by, but Vaughn and Millar showed doubters when the long-teased sequel finally went into production—and with Jim Carrey to boot!
But shortly after the Kick-Ass 2 trailers started rolling out, Carrey made a bizarre move in publicly denouncing the movie's onscreen violence through a series of tweets. Since then, he's been reluctant to talk about the movie, much less promote it. But our informal poll suggests that while we might be divided on Carrey's statement, few of the franchise's fans felt his comments killed their enthusiasm for the return of Kick-Ass and Hit-Girl.
Kick-Ass 2, directed by Jeff Wadlow, opens August 16th.
Staff writer at CinemaBlend.
Your Daily Blend of Entertainment News
Thank you for signing up to CinemaBlend. You will receive a verification email shortly.
There was a problem. Please refresh the page and try again.