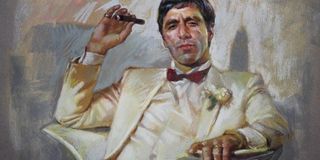 Are you ready to say hello to your little friend again? Okay, probably not, but a new Scarface is on the way. Universal has made this a top priority for a while now, grabbing bits and pieces from the 1932 version as well as the infamous Pacino/De Palma redo. This version was said to keep the Latin American roots from the '83 Scarface, but shift it slightly to the world of Mexican drug cartels. And now they have a director, and it's not someone who you'd easily expect.
Pablo Larrain is in talks to be the man behind the camera for the new Scarface, according to The Wrap. The Chilean filmmaker will be working with a script from Paul Attanasio (Quiz Show), which sets the action in Los Angeles and focuses on a Mexican immigrant. Interestingly, unlike previous Scarface actors Paul Muni and Al Pacino, the production is seeking an unknown to play the role of Tony. The surname, for the record, is to be determined: it's not going to be either Montana, or the Italian Camonte from 1932's Scarface. The Wrap hilariously claims they'll be casting an "authentic Latino" this time around, which is a sad specification given the history of American films whitewashing Hispanic characters.
Larrain is an exciting and surprising choice for the material. He's best known for his trilogy of films set during the reign of Augusto Pinochet, the tragicomic Tony Manero, the tense Post-Mortem, and the Oscar-nominated No. The latter picture is his most commercial, an uplifting story about the ad producer (Gael Bernal) in charge of the campaign to vote Pinochet out of office and preserve democracy. All three films only share the barest of thematic connections, though all are worth watching, and you can check out a trailer for No below.
Of course, Larrain is such a curious choice for Scarface because his films are basically tasteful, cold-temperature agit-prop cinema. Could he get something exciting out of the material? Certainly. Is that going to happen working with Universal? That remains in doubt.
We recently saw the final, compromised product that was Robocop, a remake from another talented Spanish-language helmer in the Brazilian Jose Padilha. And Padilha was a better match for Robocop than Larrain is for a gritty Los Angeles crime story. Larrain's competition for the job, up until recently, was David Yates, a commercial filmmaker who -- in my opnion -- ensured that the final films in the Harry Potter series all looked, sounded and felt the same, preserving continuity over artistry. The hope is that Universal is willing to take a chance on a guy who represents the boldest Hollywood directorial choice in years.
Your Daily Blend of Entertainment News