Harry Potter's David Yates Will Direct The Scarface Reboot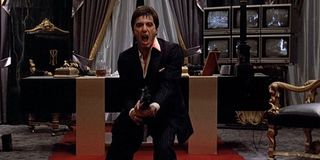 Totally aware of the love for prior Scarface films—Howard Hawks' 1932 version with Paul Muni and Brian De Palma's 1982 version with Al Pacino—Universal Pictures is carefully crafting their latest re-invention of this mobster tale. Deadline reports the studio's mindful approach includes bringing in a director who can make a movie with commercial and critical appeal, like David Yates. The English director, who is a hot commodity after helming the last four Harry Potter films, is reportedly in final negotiations to direct this new Scarface. But don't call it a remake.
Universal is considering this more a reboot. Back when word of the project first surfaced, they were looking to recreate the story of an immigrant come to America who makes his way to wealth and power through crime without actually calling it Scarface. But within a few months, that idea was abandoned and Training Day scribe David Ayer was brought on to pen the screenplay for a Scarface remake. But Universal seemed underwhelmed by his approach, and brought in The Good German writer Paul Attanasio to rework the screenplay.
While many were wondering when and where this new Scarface would be set, pop princess Rihanna reportedly began dropping hints she'd like to play the titular gangster's moll. Universal is still trying to keep plot details under wraps. However, a report that surfaced last December suggests the "reboot" means shifting the time and place from 1930s Chicago and 1980s Miami to modern-day America. And instead of Italian or Cuban, their new Scarface would be Mexican, and his plotline would have him involved with a Mexican drug cartel. Really, considering the horrific headlines real cartels from that nation have been snatching the past several years, this is a move we should have predicted.
Universal is not commenting on these plot points yet. Instead, they are said to be fine-tuning the script and getting Yates on board. Once he has signed on, the world will be watching to see who is considered for the title role. What actor is ballsy enough to follow in the footsteps of Pacino in his most iconic role? We'll see. In the meantime, check out the leaps made from the first Scarface to the second by comparing its trailers below:
Staff writer at CinemaBlend.
Your Daily Blend of Entertainment News
Thank you for signing up to CinemaBlend. You will receive a verification email shortly.
There was a problem. Please refresh the page and try again.