Scarlett Johansson As A Femme Fatale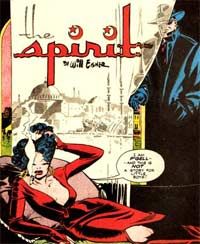 Scarlett Johansson just got really busy. The Hollywood Reporter says she's signed on to no fewer than three future films.
The first one is a movie we talked a little about yesterday. It's the three Jennifer film He's Just Not That Into You. Already in the cast is Jennifer Aniston, Jennifer Connelly, Ginnifer Goodwin, Kevin Connolly, and Justin Long. The cast is huge because it's an ensemble comedy about modern-day relationships and how men and women often misconstrue the intentions of the opposite sex. Scarlett plays a pilates instructor who has an affair with a married man and wants him to leave his wife.
The second is much more interesting. It's a the Frank Miller directed adaptation of a comic called "The Spirit". In it, Scarlett will play the role she was born to play: A femme fatale. The Spirit is about a masked crime fighter. The character was popular in Sunday newspaper comic inserts back in the 40s and the movie should be a gritty looking noir. Scarlett will play a curvy, dangerous beauty named Silk N Floss. Alright, the name's kind of bad, even Bond's babes manage better, but she's described as a sexy intelligent secretary whose an accomplice to the movie's evil mastermind villain, which means lots of fun to be had with Scarlett Johansson
The third film is another boring costume drama. The rumor that Scarlett is doing Mary Queen of Scotts is confirmed, putting her back in the corsets and powdered wigs that Hollywood actresses and female moviegoers seem to favor. Yawn. Bring on The Spirit!
Your Daily Blend of Entertainment News