Scarlett Johansson Hops On Napoleon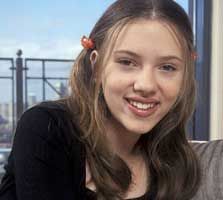 I know Scarlett Johansson is still fairly young, but can she pull off a 14-year-old? Not with those curves! They'd better strap her down.
Strap em down may end up being exactly what she'll do, since Johansson has been cast to play Napoleon Bonaparte's 14-year-old love interest "Betsy" in the appropriately named movie Napoleon and Betsy. What the heck happened to poor Josephine? Men… always getting younger at the position. Shameful.
Betsy was the teenage daughter of one of Napoleon's English captors while he was in exile in 1815. Just imagine if John McCaine had made a run at the Viet-Kong's daughters while trapped in that cage. Somehow I don't think it'd have gone over very well with his guards.
No one has yet been cast to play the diminutive short dead dude, and presumably the guy from Bill & Ted is now much too unemployed to reprise his role. Also up in the air is whether or not Nappy and his Betsy will get physical during the film. Whether this is because history isn't sure if it happened or because someone thinks a 14-year-old getting it on with a midget dictator is kind of creepy is uknown. But since the actress playing her is considerably more than fourteen, I'm not sure I see what the problem is. Now The New World, that movie had serious statutory problems. Why isn't Colin Farrell up on charges again?
Your Daily Blend of Entertainment News