Scarlett Johansson Remaking Madonna Movies?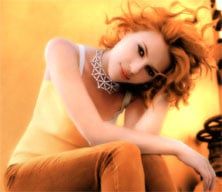 I love Scarlett Johansson, but should she really be remaking Madonna movies? That may be the plan, according to the celeb gossipers over at WENN.
They claim she's a big fan of the Andrew Lloyd Webber musical Evita, and wants to play Eva Peron. She tells them, "I became fascinated with Evita as a teenager and I'd love to play that role but Madonna was awesome." Alright, that doesn't exactly sound like she's planning to redo it, actually it sounds like she's pretty happy with what Madonna did in her version. Besides, can Scarlett even sing? I don't remember seeing any evidence of it.
If she really wants to remake a Madonna movie, let me be the first to suggest Body of Evidence. Granted, it's a piece of shit, but it's a piece of shit in which Madonna gets naked and has kinky sex involving handcuffs and hot wax…
Sorry, I went cross-eyed therefore a moment. Really, Scarlett's much too busy to bother with Madonna's table scraps. She has no fewer than five movies coming out next year, most of them boring period pieces. We'll all be totally sick of her by the end of 2007.
Your Daily Blend of Entertainment News
Thank you for signing up to CinemaBlend. You will receive a verification email shortly.
There was a problem. Please refresh the page and try again.