Scarlett Johansson Will Sing For Judd Apatow And The Director Of Once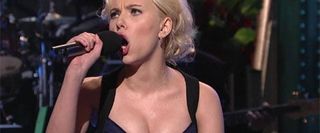 I was pretty high on the movie Once back in 2006. Though it earned some attention in Oscar's now mostly ignored musical category, there's still never been anything quite like it. The man who wrote and directed it, John Carney, never really got much attention. Now though, it seems like he's starting to get his due.
Carney's working on a new music-themed movie called Can a Song Save Your Life? and The Post says Scarlett Johansson is set to star. The movie would have Scarlett as a burgeoning young music star who falls for a washed up A&R man, a part yet to be cast. Names as widely varied as Jim Carrey and Mark Ruffalo have been rumored for that part.
Word is that Scarlett will actually be required to sing in the movie. Though that may sound strange to fans of her movies, in which she hasn't actually done much singing, Johansson actually released an album called Anywhere I Lay My Head in 2008, in which she covers Tom Waits songs.
Of course Paris Hilton once released an album too, when you're already famous, releasing an album isn't necessarily proof you can sing. Not everyone can be Zooey Deschanel. So here's the title track from Scarlett's album. Check out her pipes:
Maybe she can pull it off. She's got sort of a Fiona Apple thing going on. It'll probably help that she has a proven genius, in Carney behind her. It doesn't hurt that Can a Song Save Your Life? is being produced by Judd Apatow, who generally seems to know what he's doing. Be interested.
Your Daily Blend of Entertainment News