Old School 2: Get Olderer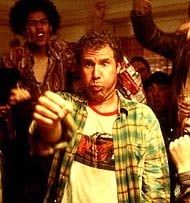 Old School is easily one of the five funniest movies of the past couple decades. It ranks somewhere right behind Bad Santa and The 40 Year-Old Virgin on the ridiculously funny scale. The aughts have been good for comedy. So it's a little disheartening to hear today that they'll be making an Old School sequel. Not because I don't want more of it (because I do), but because according to Empire the original cast may not be returning.
The film's creator Todd Phillips has been given a greenlight from DreamWorks to start churning on a sequel screenplay with his partner Scot Armstrong. The scary thing is that there's not even been any discussion of trying to get the old crew back… which could mean that they'll be taking the route of rehashing the same topic, only with new characters. I guess they can't afford Will Ferrell.
But then is anyone really interested in an Old School without Frank the Tank? Without Beanie? I don't think so. You've got to give us at least one of them. Luke Wilson, I regret to inform you that you're easily replicable. I smell another Dumb and Dumberer.
Your Daily Blend of Entertainment News
Thank you for signing up to CinemaBlend. You will receive a verification email shortly.
There was a problem. Please refresh the page and try again.