Scientology Film Going Clear Just Ran Into A Huge Problem In Florida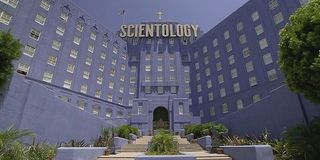 When it debuted at the Sundance Film Festival earlier this year, Alex Gibney's documentary Going Clear caused quite a ruckus. The subject the Academy Award-winner's film is the Church of Scientology, who are not only well funded, they're a rather litigious organization and generally don't take kindly to criticism. Flexing they muscle once again, pressure from the Church has led to a Florida movie theater cancelling a scheduled screening of the film.
Sources tell The Hollywood Reporter that a movie theater located in Clearwater, Florida, has pulled plans to show Going Clear, which bears the subtitle Scientology and the Prison of Belief, after being pressured by the Church.
Cobb Countryside 12, which is right in Scientology's back yard—they have deep roots in Clearwater, with a multi-million dollar facility and cathedral called the Flag Building—told HBO that they would no longer show the film after receiving "threats" from the Church. The exact nature or target of these threats are not specified, but as likely as not it was some sort of legal action, as the Church of Scientology has been on a very public campaign against Going Clear from the start.
Before it aired on HBO, Going Clear did receive a limited theatrical release last March, though HBO Documentary Films is planning a re-release in approximately 20 cities later this month in order to raise awareness of the film before the end of the year awards season—it recently walked away with a trio of Emmys. A theater in a neighboring town, however, the AMC Woodlands Square 20 located in Oldsmar, Florida, has stepped up and agreed to show the film when HBO expands their efforts in early October.
Going Clear is based on a book of the same name by Lawrence Wright, which present a highly critical portrayal of Scientology, a fact you probably got from the title, as well as the reaction of the institution. The film digs into things like how famous members, like Tom Cruise and John Travolta, play into furthering their endeavors.
If you don't live in one of the markets where the film is being released—like New York, San Francisco, Miami, Los Angeles, Washington DC, and a few others—don't worry, the film is still available on HBO and HBO Go if you want to give it a watch. Given the hype behind the picture, it could very well wind up a player when the awards start to roll in, so it should be worth checking out.
Your Daily Blend of Entertainment News
Thank you for signing up to CinemaBlend. You will receive a verification email shortly.
There was a problem. Please refresh the page and try again.