Scoop: Beethoven Gets A Remake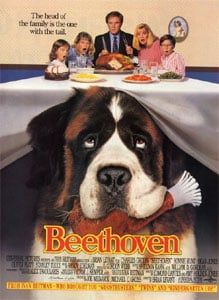 I thought this franchise was good and dead, but apparently there's still so much love out there for the Charles Grodin starring Beethoven movie that they've decided to remake it. Sort of. One of our 100% reliable sources recently emailed me to let us know that Mike Elliot is working on a re-imagining of the original Beethoven movie.
You remember Beethoven. It's 1992 and Charles Grodin hates dogs. His kids get a gigantic St. Bernard named Beethoven. Wacky hijinks ensue. Well it seems Elliot's approach is to remake the movie as if the characters are aware it's a movie. This version, to be titled Beethoven: The Reel Story, is about what goes on behind-the-scenes when the dog behind the movie Beethoven turns into a huge doggie star.
Our source says, "The film is about Eddie, a struggling animal trainer and single dad suddenly finds himself the personal wrangler for a large and lovable St. Bernard whose fabulous movie "audition" catapults the dog to stardom. However, a trio of unscrupulous ne'er-do-wells have plans to kidnap the famous dog and hold him for ransom." It's a story within the story thing.
I guess it could be worse. I mean at least it's not a straight remake. They're trying to get creative with it, though I'm not sure it's worth the effort. I wouldn't be surprised to see this end up straight to DVD. Mike Elliot knows the direct to DVD having had a hand in producing such bottom shelf classics as American Pie Presents Band Camp and Timecop: The Berlin Decision. This will be his directorial debut when Beethoven: The Reel Story starts filming on February 4. No word on whether Charles Grodin will be involved, or if indeed he's even still alive, but if he is alive I assume he's much too pruny to be allowed in front of a camera. Last time I saw him he looked like that old guy who dances in the Six Flags commercials.
Your Daily Blend of Entertainment News