The Score Board: Amazing Spider-Man 2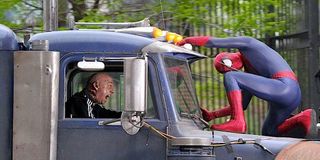 While the average audience member might not automatically process this, the overall sound of a film is pivotal to our enjoyment. When it comes to composers, it's almost as if they're engineering their own films away from the filmmakers, with elevated action, moody drama and swooning romance. What's unique is hearing the music of the film, then heading home and hearing it on your own. The mark of a great composition is that it complements the movie perfectly, but on an independent listen, it creates new images all its own inside your head.
This week we're tackling maybe the year's most ambitious soundtrack, the multi-composition score for The Amazing Spider-Man 2. There's much to discuss, and some of it may be vaguely spoilery, though we'll try not to mention any plot details.
Who's Responsible?
The soundtrack makers and billed as Hans Zimmer And The Magnificent Six, a cute nod to the Sinister Six. Among Zimmer's collaborators for this film are the pop musician Pharrell Williams (who also contributes a pretty syrupy ballad) and DJ-turned-composter Junkie XL, who earlier this year essayed a pretty terrific percussion-heavy score for 300: Rise Of An Empire. This is the second time Zimmer has collaborated with another major musician on a superhero film: he worked with James Newton Howard on both Batman Begins and The Dark Knight.
What's That Sound?
This soundtrack actually combines traditional string and woodwind instruments with a heavy electronic sound, resulting in competing and often contradictory motifs. It's also one of the few blockbuster soundtracks in existence to feature scatting.
There's a new hero theme for Spidey, the third following Danny Elfman's bouncy work in the Sam Raimi films and James Horner's melodic take in Amazing Spider-Man. It's more of an isolated audio motif, however: the biggest recurring trend throughout the music is the theme for Electro. Jamie Foxx's bad guy has a theme that can be best described as Philip Glass does Skrillex. It has the crunching guitars of Zimmer's usual rock-influenced work, but it also has quieter, more barren passages where you can hear what sounds like a single oboe, repeating a single foreboding two-note variation.
The crescendo is appropriately violent as the reverb flexes violently on the track. Pharrell also adds some operatic spoken words, ostensibly meant to capture Electro's fractured mindset. In a brief snippet on the soundtrack where you hear them goofing off in the studio, it sounds clear that Pharrell's faking a baritone to illustrate that this is sort of a dubstep opera. It's sort of embarrassing, sort of dumb, and actually kind of interesting, the sort of sonic risk you usually don't see in superhero films. This is by far the most adventurous score in the Spider-Man series, probably of all the Marvel films proper.
The rest of the score offers variations on Zimmer's new Spidey themes, complete with wailing electric guitars, complete with that synth drum pitter-patter that also surfaced in all previous Spider-Man movies. Here, Zimmer's work is a lot like the frequent screenplays of Amazing Spider-Man 2 writers Alex Kurtzman and Roberto Orci: a lot of things happening, none of them cohering. The theme keeps jumping from motif to motif schizophrenically, never once approaching melody. The closest is on a soft romance theme that, admittedly, strikes a nice melancholy tone considering fans' knowledge of the Gwen Stacy storyline.
Standout Track
The full medley for Electro surfaces in My Enemy, which quietly in a way that almost perfectly captures the escalation of the centerpiece Times Square sequence. It's worth noting how Spidey's theme enters this track halfway through and entwines itself within the electronic themes of the track.
How It Plays Within The Movie
Director Marc Webb seems as if he was not an active collaborator on the score, and he struggles to find places for the music to pop up within the action. The Electro themes are especially jarring, especially when we start to hear Pharrell's chanting over rather mundane on-screen activities. The one place it seems perfectly synched to the action is during the Times Square battle between Spidey and Electro, where the music's crescendo is played over elaborate scenes of destruction. The Peter-Gwen romance theme does get two nice moments to shine in the third act, when the clatter of the rest of the film dies down.
Perfect Listening For: There's not a whole lot of appropriate activities to attempt while listening to this score, unless you rejigger it to isolate the villain and hero themes. The hero material is nice background music for a videogame success, but it's too herky jerky for actual exercise. Listen to the Electro theme when you're angry and alone and want no one to bother you. Bring massive headphones.
What's In My IPod?
-David Shire, The Taking Of Pelham 1, 2, 3. One of the all-time great New York movies, and one of the all-time great scores. Just an onslaught of funky horns times to the New York subway. Has been homaged in countless other scores over the years, including (I swear) the out-of-costume fist-fight between Peter and Harry in Spider-Man 3.
-Clint Mansell, Noah. If there's one composer in the business who under no circumstances does subtlety, it's Mansell. His compositions for Noah are operatic, grandiose, labyrinth versions of what he did on The Fountain. The score is a massive part of Darren Aronofsky's bizarre, massive Biblical epic.
-M83, Joseph Trapanese, Oblivion. Though the film is largely forgotten by now, Tom Cruise's sci-fi action picture had a rousing blockbuster score by indie rockers M83. Judging by their open admission of a terrible experience on the film, and Trapanese's other work (including The Raid: Berandal), I'm led to believe it's mostly the work of Trapanese, who deserves a shot at the big time.
Your Daily Blend of Entertainment News