Scream 4's Got A Role For The Beautiful Life's Nico Tortorella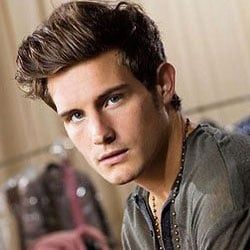 It's time to add another name to Scream 4's roster: Nico Tortorella. Nico who? Since the show got the axe after just four episodes, odds are, you never caught him in The Beautiful Life, but Tortorella does appear in the upcoming film Twelve as Tobias. Being cast in Scream 4 is big for the up and coming actor and he knows it. Just yesterday he broke the news himself and tweeted (via Shock Till You Drop), "Huge news today!!!! Just officially got cast in scream 4!!!! Today is always the best day of my life."
Good for Tortorella, but it was actually his fan site that revealed some even bigger information, a casting call posted back in April revealing all of the lead roles. According to those descriptions, here's where we are at so far:
Swipe to scroll horizontally
JILL KESSLER. Pretty in an ingenue way. Smart, strong. A little goofy, but she makes it sexy. Full of contradictions, but instantly likeable. Not a mean bone in her body. They're not close, but Jill is Sidney's cousin
CHARLIE WALKER. Messy cute. Friends with Jill, Trevor, Kirby, and Olivia. A little cocky, he likens himself to 'Randy' from Scream 1 without the nerd part. No such luck, he's definitely a nerd. May or may not have a crush on Jill. He'd never admit it if he does
FEMALE (17-18; any ethnicity) - KIRBY REED. Cute and quirky, was a tomboy until a year ago, now she's alternative, cool and sexy. Jill's best friend. She's a pop culture and horror aficionado
FEMALE (30s; any ethnicity) - DEPUTY JUDY HICKS. A police officer, decidedly sexy but a bit off, she knew Sidney from high school. Didn't make a big enough impression for Sidney to remember her. Likes her boss, Dewey, perhaps a little too much. NAME CAMEOS PREFERRED
The fan site suggests Tortorella's role is likely Trevor Sheldon, a good-looking high school jock with a secret. Based on the character descriptions, it seems safe to assume we'll be focusing on a Woodsboro still obsessed with the murders and the Stab films. We even have a handful of new players directly linked to the old timers like Charlie to Randy and even a potential Gale Weathers, Rebecca. She's an overachiever and the school paper's editor-in-chief.
There's just one thing that makes me a little skeptical about this casting call, that poster. One with just David Arquette, Neve Campbell and Courteney Cox might have been convincing, but what are Patrick Dempsey and Heather Matarazzo doing there? Okay, they survived Scream 3, but since when are they involved in the fourth? Tortorella's casting? Fine. This casting call? I'm keeping my guard up.
Your Daily Blend of Entertainment News
Staff Writer for CinemaBlend.