Seann William Scott To Star In Kevin Smith's Hockey Movie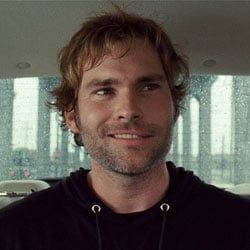 Kevin Smith's first big studio film, Cop Out, hits theaters this coming weekend. We'll have tons of coverage later this week, including an interview with Kevin and of course, a review of the film. But right now, we're looking forward to the movie he's doing afterward, a hockey film called Hit Somebody which Kevin has already started casting in his head.
Smith revealed to NHL.com that he's hoping Seann William Scott will play the lead character in Hit Somebody. Seann has just finished working with Kevin on Cop Out, in which he plays a key, supporting character. You've probably seen him in the trailers making life miserable for Tracy Morgan. In Hit Somebody he'd play Buddy, a hockey enforcer who dreams of being a scorer, while he's forced to spend his ice time playing the goon instead.
Of Seann William Scott, Kevin says, "This dude has something in him that you can just see hangs so well on Buddy. He's got some pain that's going to work out well. More importantly he has so much love in his heart. Seann Scott is such an ebullient, happy person who's just happy to be there. And on ("Cop Out") you could see it. On our set the guy is just so delighted to be working, to be making people laugh. But he's always dismissed as Stifler. … This is his chance to shine."
I'm with Kevin on this point. Seann William Scott has always seemed like a guy on the verge of a really big break. The closest he's come to having it, outside of the American Pie universe, is as the second lead in the underrated buddy comedy Role Models. That didn't quite do it. Maybe Hit Somebody is it.
First Kevin has to finish the script and now he's writing the part with Seann William Scott in mind. For his part, Scott hasn't signed on the dotted line yet, but he sounds enthusiastic about it, even though he's not a strong skater. That doesn't matter. Seann says, ""I didn't grow up playing hockey which is good because the character is not supposed to be a great player, he's a great fighter."
His enthusiasm is understandable, since Kevin thinks he can make him the next Tom Hanks. No really. Kev says, "Hanks for years and years did this (lesser) role and then he became that (blockbuster movie) guy. This is Seann's chance to do that as well, not just be Stifler. And it's my chance to not just be the "Clerks" guy. It's my chance to do something big, epic in scale. Stories I tell span one day. … This spans 30 years. You're talking a period. You're trying to bring people to a time in your life that hasn't existed in 30 years. The look of it, the feel of it, the sound of it -- everything I have is going to be in that movie."
Check out Kevin and Seann's full interview over at NHL.com.
Your Daily Blend of Entertainment News