Searching For Sugar Man Documentary Will Hit Blu-ray In January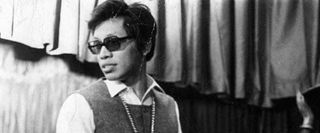 Searching for Sugar Man is the Swedish and British documentary that follows two Cape Town fans tracking down whatever became of Rodriguez, an American musician who never quite made it big as producers expected. The film made a mark during festival season, getting nominated for the special jury prize at Sundance and winning the audience award at the Los Angeles Film Festival. If you loved it or still need to check the documentary out, Sony Pictures Home Entertainment is bringing Searching for Sugar Man to Blu-ray and DVD on January 22.
The real-life story followed in the film is a strange one. In the 1960s, two producers encountered a man named Rodriguez with mad musical talent. They signed the singer immediately and made an album with him that bombed horribly in the States. Afterwards, the music artist disappeared from the cultural landscape, but somehow the album still found its way into apartheid South Africa, where Stephen 'Sugar' Segerman and Craig Bartholomew Strydom became fans. The two go in search of their icon, and the journey and what follows is surprising. The documentary was produced by Simon Chinn and John Battsek.
The 86-minute movie will come with a few extras, including commentary and two featurettes. Both will be available with Blu-ray and DVD copies. Hopefully, the extras will give some insight into how a project as strange and wonderful as Searching for Sugar Man was dreamed up. You can check out the full list of extras, below.
Searching for Sugar Man Blu-ray & DVD Bonus Features
Commentary with Director Malik Bendjelloul and Musician Rodriguez
"An Evening with Malik Bendjelloul and Rodriguez"
"Making Sugar Man"
Amazing Race & Top Chef superfan with a pinch of Disney fairy dust thrown in. If you've created a rom-com I've probably watched it.