See The Breaking Bad Easter Egg In Godzilla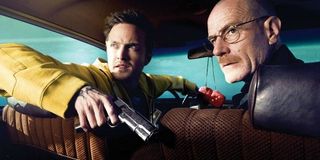 One of the many truly amazing things about the internet is that there is literally no reason why we should ever miss a cinematic Easter egg ever again. That's because millions upon millions of people can now scour through every single movie frame to try and find hidden jokes that were delicately concealed in films by directors. But there was one Easter egg that managed to sneak through the cracks. Until now. An eagle-eyed Slashfilm reader, Jake, has uncovered that the title sequence to Gareth Edwards' Godzilla featured a sly tip of the hat to none other than Breaking Bad. Of course, this shouldn't come as much of a surprise, because both of these creations included the enigmatic talents of Bryan Cranston.
Throughout Godzilla's opening credits, various names from the film's huge cast and crew are redacted to symbolize the cover-up that was involved in hiding the huge monster's presence on Earth. But at the 50-second mark, when Bryan Cranston's name appears, the redaction is carefully constructed to give fans their ingenious Easter egg. You can watch the titles below:
Did you see it? It's a little tricky to spot as it flashes past in an instant. Thankfully we now live in an age where screen capture is available, so we can breakdown this Easter egg into handy stages so everyone can enjoy it. First of all the full text appears around Cranston's name, as the image depicts below:
Then the redaction comes into play so that it reads:
But controversy has now started to surround this discovery. Malcolm In The Middle fans have insisted that this Easter egg also pays homage to the cult comedy. Cranston first came to the attention of mainstream television audiences thanks to his portrayal as Hal in the Fox comedy, before he ultimately gained wider recognition for his efforts as Walter White. And if you look at the first picture closely you can clearly see that the witness is named after characters from both shows.
Either way it still won't beat this Malcolm In The Middle-inspired alternate ending to Breaking Bad that was released just before the AMC drama came to an end last year:
Inspired by these discoveries, Seinfeld fans are now believed to be re-watching Godzilla on a 24-hour loop in hope of finding a Tim Whatley Easter egg, as well.
Your Daily Blend of Entertainment News
Thank you for signing up to CinemaBlend. You will receive a verification email shortly.
There was a problem. Please refresh the page and try again.