See The X-Men Display Their Incredible Powers In 7 Apocalypse GIFs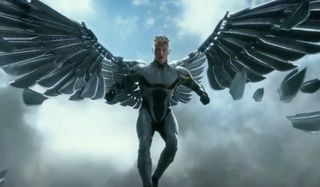 The full X-Men: Apocalypse trailer dropped this morning, giving fans a better look at the size and scope of Bryan Singer's next mutant throwdown. And though we have been lucky enough to see decent shots of Oscar Isaac's Apocalypse and his various Horsemen in marketing materials leading up to this, the trailer was our first look at some of our favorite Marvel heroes (and villains) in action. Just the way that we like them.
We combed over every frame of footage shared with Singer and his X-Men: Apocalypse team and did a head count of the different mutants on display, while also marveling (no pun intended) at their God-given, genetically enhanced abilities. Which character, revealed in the new trailer, were you most intrigued by? And who are you still waiting to see? I wish we could have seen one "Bamf!" from the new Nightcrawler. Perhaps in trailer number two.
Magneto
So, what do we know about the master of magnetism, as played once again by the great Michael Fassbender? Well, from this quick GIF, he's on the side of Apocalypse (who you ALSO can see in the scene), and he's accompanied by Storm and Angel. They have infiltrated the X-Mansion, as later in the trailer, we see Apocalypse using what we think is Cerebro. Such a tool in the hands of a villain? That's terrifying.
Apocalypse
That's not the best view of Apocalypse and his powers, though. In a scene that finally addresses the villain's stature, we see Charles (James McAvoy) trying to punch his new adversary. Only, his entire fist is blocked, and caught… and the villain then increases to ridiculous heights to possibly crush Professor X into the ground. Is this a dream sequence? That's my guess.
Cyclops
X-Men: Apocalypse is bringing back younger versions of several fan-favorite characters, and classic X-Men leader Scott Summers will be figuring out how to properly use his powers as Cyclops. Once again, Scott "misplaces" his visor in this Apocalypse scene, creating holy hell for his upstairs neighbors. "My bad!" the hero shouts, for the umpteenth time.
Quicksilver
Speaking of fan favorites, Evan Peters' Quicksilver was a legitimate scene stealer in Days of Future Past, helping Charles to break Magneto out of a top secret holding cell. It was one of that movie's most memorable sequences, and the actor (as well as his director) have been saying they're trying to top it in Apocalypse. Is this a snapshot of their attempt? Why is Quicksilver sprinting through Charles' mansion? We can't wait to find out.
Storm
Sorry, Halle Berry. Your time as the weather witch has come to an end, and this is our first look at Alexandra Shipp in action as Ororo Munroe… better known as Storm. We know the character will be a minion of Apocalypse, one of the Four Horsemen. But it has to be a short-lived stay, as Storm is one of the greatest X-Men of all time. She can't stay evil on this timeline… right?
Angel
Warren Worthington III has had a tough time in big-screen adaptation of X-Men stories. He was mishandled in The Last Stand, but is being reborn as a Horseman in Apocalypse's army. This stellar GIF shows us his armor-plated Archangel form, and it's pretty spectacular. He's the one who looks like he could be real trouble for the X-Men, if he figures out how best to use his abilities.
Bald Charles Xavier
The trailer saved the most exciting reveal for last. After showing Charles with a full head of hair as he spoke with young Jean Grey after a nightmare, the X-Men: Apocalypse tease finally shows off bald Charles Xavier, as James McAvoy goes full-blown Professor X. It's magnificent. Bring on X-Men: Apocalypse which hits theaters on May 27, 2016.
Movie junkie. Infatuated with comic-book films. ReelBlend cohost. Resident dad. Extroverted introvert. Wants to see the Snyder Cut. Managing Director at CinemaBlend.