5 Big Moments The X-Men: Apocalypse Trailer Needs To Show Us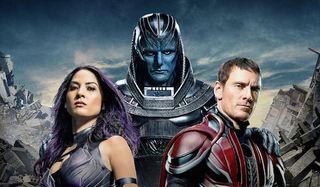 The X-Men movie franchise is about to face the end of an era… again. Next year, the "First Class" trilogy will conclude with X-Men: Apocalypse, which will see the superhero team trying to stop the eponymous antagonist from taking over the planet in the early 1980s. The first trailer has been confirmed to be attached to Star Wars: The Force Awakens, and while director Bryan Singer has already teased it out with a shot of a pained Professor X, the big question now is what the preview will feature.
Although some footage was shown at San Diego Comic-Con, this preview will be the first public look at X-Men: Apocalypse, which means it needs to get hardcore fans pumped even more for the movie and give the general audience a broad idea of what it's about. The key to a good teaser trailer is providing just enough action and plot elements without giving away the entire story. In order to accomplish that goal, these are the five main things the teaser will need to show over the course of two minutes or less.
Apocalypse's Egyptian Past
The X-Men: Days of Future Past mid-credits scene showed a young En Sabah Nur telekinetically constructing the ancient Pyramids in front of an adoring crowd. That was one hell of a first impression, but the general audience might not remember that scene, especially if they made the mistake of walking out of the theater right when the credits started rolling. That's why it's important the teaser establish how different this antagonist is from the previous ones. He's thousands of years old and has awoken from his slumber to lay siege to the entire planet! He's kind of a big deal. More importantly, though, the teaser would hopefully include a few important background moments about the young mutant, like how he came to be worshipped as a god.
Magneto Taking It To The Next Level
Erik Lensherr is always finding new ways to show off just how powerful his metal manipulating abilities are. He lifted a bridge in X-Men: The Last Stand, pulled a submarine out of the water in X-Men: First Class and carried a whole stadium in X-Men: Days of Future Past. Surely there will be another moment where he's able to lift something so gigantic that you'll wonder how he doesn't pass out unconscious. My personal choice would be Apocalypse's massive ship, or if he's able to coat them in metal, the Pyramids themselves! Now some of you may point out that it's better to save something like this for a later trailer, but with this being the final entry in the "First Class" trilogy, the sooner we can see Magneto kick things up a notch (possibly for the last time, if Michael Fassbender doesn't end up returning), the better.
Professor X's Students Training
X-Men: Apocalypse will see the "First Class" characters reuniting to stop Apocalypse from taking over the planet, so it's guaranteed we'll get shots like Mystique shapeshifting, Quicksilver speeding around and Beast getting animalistic. However, the 2016 blockbuster is also notable for featuring Xavier's young students, specifically old favorites Cyclops, Jean Grey and Nightcrawler, as well as Jubilee in her first major live-action appearance. While it hasn't been outright stated, it's almost certain the teenagers will be drafted by their professor to help defeat the Egyptian antagonist, so let's see what they have to offer. Give us shots of Cyclops' optic blasts, Jean Grey's telekinesis, Nightcrawler's teleporting and Jubilee's plasmoids. Give the hardcore fans some action to chew on, and get the general audience realizing that aside from Jubilee, these are the younger versions of the same heroes they saw in the original movies.
The Four Horsemen Unleashed
Apocalypse may be powerful, but even he can't conquer an entire planet on his own. That's why he'll bring new Horsemen to his side. Aiding him in his crusade will be Magneto, Storm, Psylocke and Angel. None of them are evil, but because Apocalypse finds them when they're at their lowest, they'll join him in "cleansing" the world. Well, we also suspect some mind control will be involved in recruiting them, too. Regardless, there's a reason he chose these four people over everyone else on Earth, so let's see how capable they are. Gives us shots of Storm channeling the weather, Psylocke unleashing her psychic katanas, and Angel's metallic wings cutting through the competition. As for Magneto, we already touched upon the big moment the teaser will hopefully include of him, but going further, it would be cool to see a few shots of him battling one of his former allies over on Charles Xavier's team, like Beast or Havok.
Apocalypse's True Potential
A few stills of Apocalypse were released over the summer, and critical reception to his appearance was decidedly mixed, with many calling him an Ivan Ooze ripoff. What's important to remember, though, is that pictures alone can't represent what a movie villain will be like. This teaser will be the first time the public sees how formidable Oscar Isaac's version of the character really is, but this is more than just getting a better look at him or hearing his intimidating voice. Apocalypse's main ability is molecular manipulation, which allows him to alter his size, heal quickly from injuries, boost his strength -- the list goes on. Obviously not all of these abilities should be shown off in the teaser (or even the previews in general), but we need to see him unleash his wrath on the protagonists. Hopefully whatever we see of him will also include a quick glimpse of his "ultimate" form, which will ideally look something analogous to the image above.
Connoisseur of Marvel, DC, Star Wars, John Wick, MonsterVerse and Doctor Who lore. He's aware he looks like Harry Potter and Clark Kent.
Your Daily Blend of Entertainment News
Thank you for signing up to CinemaBlend. You will receive a verification email shortly.
There was a problem. Please refresh the page and try again.