Seth Rogen's Red-Band The Night Before Clip Has A Filthy, NSFW Song For The Holidays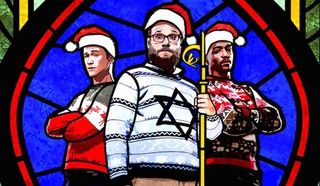 Christmas songs usually follow a handful of traditional themes and revolve around family, togetherness, the general chilliness of the season, a baby being born, or a rotund gentleman breaking into your home after you go to sleep. Taken as a whole, they tend to be positive and festive, like hug in musical form. Well, Seth Rogen's upcoming movie The Night Before has a very different take on what is a holiday appropriate jam.
To be fair, this isn't actually a holiday song of any sort that you see in this clip from IGN, it is, in fact, a version of Kanye West's song "Runaway." But that dude is pretty festive, which makes his music appropriate for parties, gatherings, and celebrations of all stripes. Who's to say Kanye isn't the right choice for a holiday movie? It might just be the perfect choice for this one.
The Night Before follows three friends, Ethan (Joseph Gordon-Levitt), Chris (Anthony Mackie), and Isaac (Seth Rogen). Ethan lost his parents on Christmas Eve 14-years ago, and every year the trio gets together to mark the occasion and support their pal. This year, however, will be their last hurrah as real life intrudes on their bro-time. Isaac is about to have a baby, while Chris, a professional athlete, is simply too famous to go out in public anymore, and at this stage, Ethan has come to terms with his loss. But they're going out with a bang, riding a hazy, drug-fueled wave into Christmas morning.
From what we've seen, this is definitely the style of humor you expect from the crew that delivered movies like This is the End and The Interview. One of the screenwriters is Rogen's frequent partner in crime Evan Goldberg. There are lots of crude jokes, pop culture references, and Seth Rogen puking in a Catholic church. Directed by Jonathan Levine, who also helmed Rogen and Gordon-Levitt in the sweet cancer comedy 50/50, you can also expect to see some touching moments of earnest friendship here and there. Check out the red band trailer below.
If it lives up to its potential, The Night Before could very well carve out a spot in the pantheon of less traditional holiday movies—think Bad Santa and Die Hard as opposed to It's a Wonderful Life, Frosty the Snowman, and Miracle on 34th Street. And we don't even have to wait until Christmas to find out, as the movie is scheduled for release on November 20, just in time for Thanksgiving.
Your Daily Blend of Entertainment News
Thank you for signing up to CinemaBlend. You will receive a verification email shortly.
There was a problem. Please refresh the page and try again.